(04/28/18) Poughkeepsie Delegation Attends Second Annual My Brother's Keeper Symposium in Albany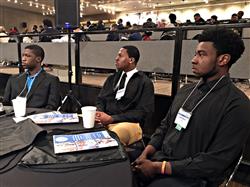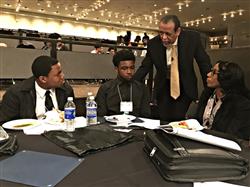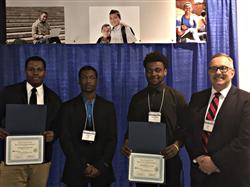 Albany, NY -
The Second Annual My Brother's Keeper Symposium was held at the Empire Plaza's Convention Hall in Albany, NY on Friday, April 27th and Saturday, April 28th. The Poughkeepsie MBK program was well represented with scholars Jaaquan Forrest, Dah'Shon Lee, and Lamar Wint in attendance on Friday. Superintendent Dr. Nicolé Williams, Assistant Superintendent for Curriculum, Instruction, and Grants Management Tracy Farrell, and My Brother's Keeper Project Coordinator Jack Mager were also among the over 600 participants in the event from across the state.
The Keynote Speaker was quite familiar to the Poughkeepsie contingent as nationally recognized educator Baruti Kafele offered an inspiring dialogue to the crowd. Kafele was frequently seen last year at Poughkeepsie Middle "Model" School working with the administrators, faculty, and staff and also delivered the 2016 Convocation Address to the PCSD faculty.
The symposium also included words of wisdom and encouragement from other esteemed dignitaries including:
MaryEllen Elia, Commissioner NYSED
Anael Alston, Assistant Commissioner, NYSED
Carlos Garcia, New York State Associate
Betty A. Rosa, Chancellor, New York State Board of Regents
Lester W. Young Jr., Member, New York State Board of Regents
Carl E. Heastie, NYS Assembly Speaker
Dr. Ronald Ferguson presented in a plenary session, "Confronting the Predicament...Dismantling Social Predicaments that Entangle and Trap Boys of Color". The Poughkeepsie delegates were provided with a special treat as Dr. Ferguson joined the group at their table for a ten minute private discussion prior to his address to the symposium.
The highlight of the two day event was the induction of Jaaquan Forrest and Dah'Shon Lee into the inaugural class of the My Brother's Keeper Fellows Program. Forrest and Lee joined 34 other scholars who will be provided with authentic leadership opportunities in government, education and business as a part of the program. Click on the following link for more information on the Fellows Induction and Program.