Return to Headlines
Guest artists spark creativity, challenge students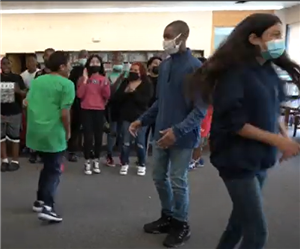 Four artists spent two weeks working with Poughkeepsie Middle School students on a variety of projects designed to spark creativity and enrich their academic experience with art, thanks to the Bardavon.
The theater's Hip Hop Theater program took a turn this year, instead of being done at the Bardavon, the artists embedded themselves in sixth grade classes at PMS.
This year's sixth graders not only entered a new school, but they did so after being remote for the last 1 ½ years. Sixth grade teachers Heidi Murphy, Selena Barrington and Elizabeth Talarczyk knew right away what they wanted the artists to focus on.
"We wanted the kids to be able to have a voice because they were away from people for a year and a half and we wanted them to identify who helped them get through these times," Murphy said.
Throughout the two weeks, students worked on praise poems and the spoken word with Drew Drake; learned music production/rapping and song writing from Grace Galu; dance with BBoy Ken Fury; and how to play instruments and use technology with Sean Nowell.
Autumn Fasone already enjoyed drawing, having started at the age of four. She came away with a new skill. "I learned how to write good bubble letters and do graffiti art," she said.
Isaiah Derello also enjoyed the bubble art. "We were able to do what we wanted and have fun with it, make it colorful," he said. For Derello, dancing was new. "I learned new moves and choreography."
Dance/choreography was also new for Alessandra Delcastillo. "The thing I didn't really know was choreography and that took me a few tries to get on flow," she said. Delcastillo liked the drawing sessions the best, explaining that growing up she had a lot of art and drawing stuff around her from her parents. "With that all around me I flourished in art."
Artist Nowell told students that while he was sharing instruments with them, they didn't need them to make music. "You can make music with anything," he said. Students then experimented with their voice and tapping pens, pencils and fingers on their desks.
Joey Rodriguez enjoyed the music and instruments sessions most.
"I learned how to make music and beats and learned about using the pedal to adjust the pitch and tempo," said the saxophone and euphonium player.
Amiah Matthews took more than lessons in art and creativity from the sessions.
"I learned that if you try new things, you might like it. You might not, but it is good to try," she said. For her, that new thing was hip hop. "I started wanting to do hip hop every day."
Matthews also pointed out how the experience impacted everyone.
"I loved the team effort with the adults, teachers and students. Everyone bonded and that helped bring about us coming together," she said.
Delcastillo said she personally works best with others so she struggled during the remote time. "This opportunity allowed me to break through that obstacle."
Students, parents and school staff were able to experience the creativity of the sixth graders during a private watch party Thursday June 2. During the video, viewers were treated to excerpts from all aspects of the sessions. The video featured students' works throughout, including the backing tracks.
Murphy noted that they scheduled the two-week program toward the end of the school year, just before the iReady assessments.
"This creates an emotional foundation where they can take chances in a subject - reading and writing," she said, adding that many of the sixth graders showed incredible growth on the assessments. While there is nothing directly linking the program to the results, Murphy believes that incorporating art into the curriculum, along with all the other efforts of staff, helps.
None of this would have been possible without the help of Adelina Borman, director of education and house manager at the Bardavon, all the artists, teachers and the students who were willing to express themselves. So, a huge thank you to all of you.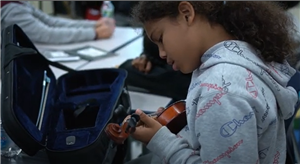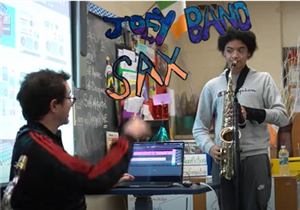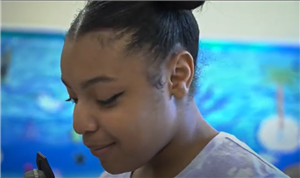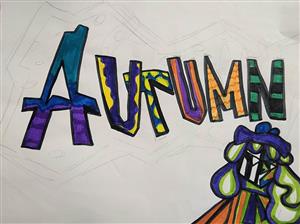 Upcoming events
June 15: School board workshop meeting, 6:30 p.m., Administration Building, 18 South Perry St.
June 16-24: Regents exams
June 20: Juneteenth – Schools closed
June 25: PHS Graduation