Return to Headlines
Students earn honors for invention ideas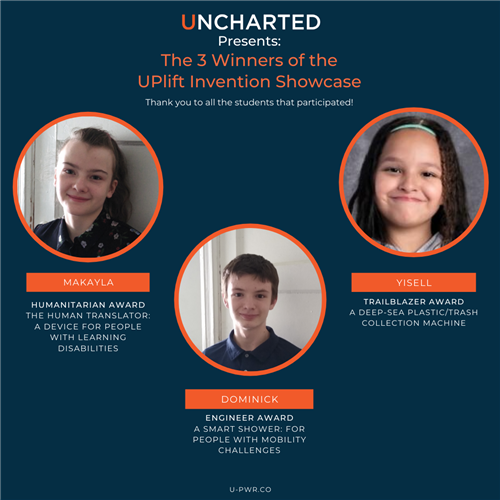 Employees from Poughkeepsie-based technology company Uncharted Power, in collaboration with Poughkeepsie Middle School staff, helped educate more than 220 PMS students about innovation. Students virtually learned through the "UPlift" program about how they, too, can be inventors in their communities.
Uncharted Power helps communities improve the resiliency of their local infrastructure, so when the electrical grid fails, the community doesn't.
UP partnered with the city and received $1.8 million in grant funding from the Siegel Family Endowment to develop a pilot project to demonstrate its technology solution for cities.
In addition, Uncharted created the Think Out Of Bounds curriculum for use in its UPlift program. UPlift is a hands-on STEM course that teaches students rapid prototyping and creative thinking through a human-centered design lens. At the end of the program, each participant will have created their own invention aimed at solving self-identified community issues.
Uncharted Power believes the ideas for the best solutions uniquely suited to a city's needs will come from the people who know that city best: its residents. Uncharted staff held virtual sessions during some science classes and two general hour-long sessions. The students delved into a community needs assessment, learned about prototypes and how to make inventions.
PMS was the first PCSD school to have a showcase, but there have been showcases in other communities.
"Our middle schoolers came up with bold ideas to solve the challenges they perceive in the world today," Eighth Grade Assistant Principal Ken Behr said.
On April 29th, five Poughkeepsie Middle School finalists presented their inventions from the UPlift program on Zoom before a panel of Uncharted Power's community.
Makayla Anzovino presented a translation device for people with learning disabilities. Her brother, Dominick Anzovino described his invention of a smart shower for people with mobility challenges. Mia Stevens presented a tailpipe filter to reduce automotive air pollution. Soly Selim followed with her invention: a scanner that gives homeless individuals access to financial services. Finally, Yisell Alarcon-Gomez presented the deep sea plastic and trash collection robot she invented.
At the end of the Poughkeepsie UPlift Invention Showcase, Dominick, Makayla, and Yisell were awarded the top three prizes.
Seventh grader Makayla Anzovino won the Humanitarian Award for her Human Translator. The device would read a person's thoughts and translate them into speech, enabling someone who cannot speak to communicate.
Her inspiration for the invention is her uncle, who cannot speak, but can understand.
"I wanted to make something so that if he goes out it would read his thoughts and translate them," she said.
One key thing she learned throughout the program, "Never give up!"
Anzovino's brother, Dominick, took home the Engineer Award for his Smart Shower, designed to help people with mobility challenges.
"It's a shower head that dispenses soap and body wash through the shower head," he said, explaining that there is a container inside the wall that has a pipe running to the shower head to supply the liquid cleaners. "I was taking a shower and I was thinking about, 'why do we have to put soap in our hand or hair and how other people can't do it,'" he said of how he came upon the idea.
The eighth grader said he enjoyed being able to come up with something useful for the community through the program and enjoyed meeting new people that he could work for in the future.
He aspires to be a Navy SEAL.
"Congratulations to all of our students who submitted their inventions for consideration! We look forward to continuing this collaboration with Uncharted Power in the future, and striving to always provide our students with opportunities to reach their potential," Behr said.