Return to Headlines
AFJROTC grows in numbers, opportunities
Poughkeepsie High School's Air Force Junior Reserve Officer Training Corps (AFJROTC) has seen the highest number of students participate in its nearly nine-year history. They are proudly serving their community and being afforded numerous growth opportunities through various initiatives.
This year's roster includes 160 students compared to 60 last year. First year male cadets who joined this year had the option not to cut their hair or wear a uniform, which AFJROTC instructor Master Sgt. Malachi Carmichael found a barrier for students to join.
Despite the change, only 25 students opted out.
"What we're seeing is that many who joined under the new rules are saying, 'Hey, I really like the uniform,'" Carmichael said.
The program teaches students leadership skills and discipline and engages them in community service initiatives, which recently included cleaning up May Street, adopted by the Jewish War Veterans Private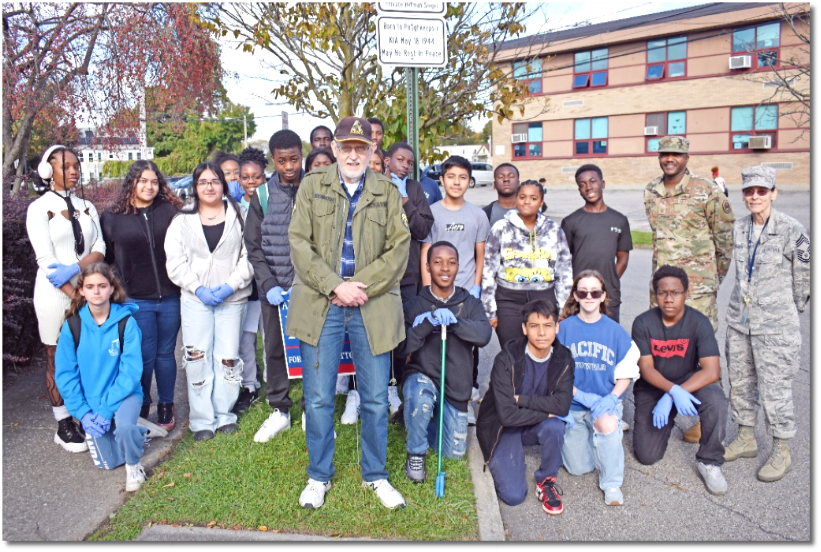 Herman Siegel Post 625 in honor of the PHS graduate who died in action during World War II.
Students can implement what they learned in AFJROTC, not only in their classes but throughout their lives. They are not obligated to join the military. Carmichael encourages anyone interested to sign up.
"It's definitely going to help self-discipline within them, self-confidence, which will translate to helping them in all their other classes," Carmichael said. "Give it a try."
AFJROTC students often present the Color Guard at school and offsite events, which instructor Chief Mary Wagner noted is a great opportunity for them to practice public speaking in front of large crowds.
"It gives them pride in their schools and in themselves," Wagner said. "It's been amazing since day one."
This year, students are connected with the Lee Archer Youth Program, which delivers dynamic youth aviation and mentor programs to students from traditionally underrepresented areas in aviation, science, technology, engineering and mathematics careers.
"Our headquarters is highly encouraging cadets to get involved in S.T.E.M activities," Wagner said. "This year we have a number of students that are interested in flying."
Wagner was initially informed about the program in 2014, but transportation proved to be a hurdle because it is held at Stewart International Airport in Newburgh. Interest in the program was revitalized this summer when Wagner met with Superintendent Dr. Eric Jay Rosser, who learned more about the opportunity for students and immediately identified funding for transportation to remove the barrier.
"The Lee Archer mentoring program's emphasis is on leadership and integrity, which is right in line with our program," Wagner said. "The program introduces the students to the aviation industry."
Five student cadets are attending the youth program and have enjoyed the experience, which most recently included visiting the Cradle of Aviation museum on Long Island.
"My hope is that AFJROTC will be sending students to the Lee Archer program for the life of the AFJROTC PHS program," Wagner said.
Cadet Major Peter Sealy, a senior, first joined in freshman year because his mother wanted him to, but stuck with it because of the positive atmosphere. He learned how to address people properly and know the right behavior for specific situations, which would come in handy in his role as student liaison to the Board of Education. "We keep each other on track and support each other," Sealy said.
If Sealy could offer a piece of advice to any potential members, it would be to keep an open mind and enjoy the experience. "At first, it's hard. You don't want to listen," Sealy said. "I believe it will benefit you at the end of the day."
For Squadron Commander Saniya Jenkins, a senior, joining the program was beneficial because she wanted to overcome a fear of public speaking. Now, she oversees students when working on community service projects thanks to Wagner and Carmichael.
"They really have pushed me since the very beginning," Jenkins said. "They try to get to know you one-on-one."