Return to Headlines
Cabinet visits HCZ, meets founder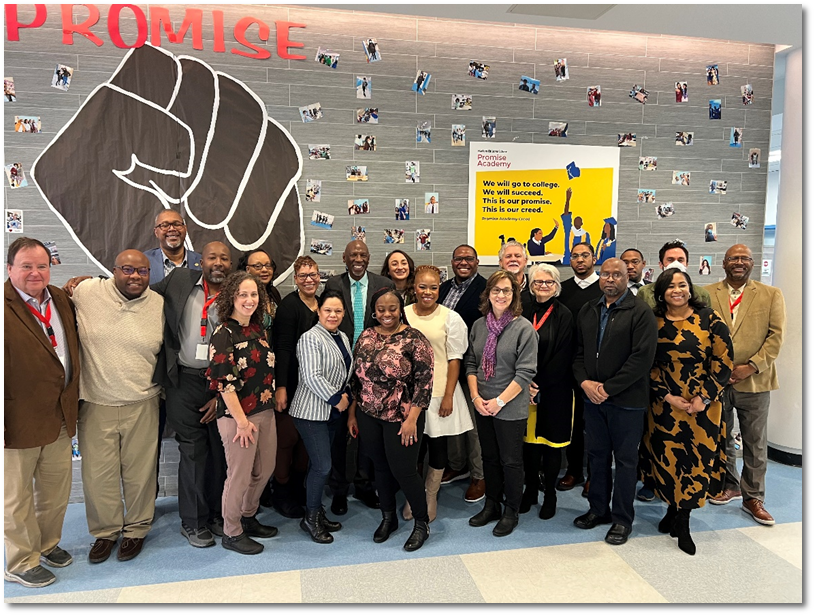 The 18-member delegation from Poughkeepsie included Mayor Marc Nelson; Superintendent of Schools Dr. Eric Jay Rosser; Dutchess County Executive William F.X. O'Neil; Common Council Chairwoman Natasha Brown; Common Council Member Yvonne Flowers; and leaders from Poughkeepsie's youth services sector and community organizations.
The three-day intensive site visit was part of an ongoing Poughkeepsie Children's Cabinet–Harlem Children's Zone partnership to develop a similar system of cradle-to-career support for youth in the City of Poughkeepsie.
Last year, the Children's Cabinet formalized a partnership with HCZ through a Memorandum of Understanding. Currently, a team of consultants from HCZ's William Julius Wilson Institute is working intensively with Cabinet staff and stakeholders to craft a strategic plan to build a cradle-to-career pipeline of programs and services for children, youth and families.
While in Harlem, the Poughkeepsie delegation received a comprehensive overview of HCZ's programs. Detailed conversations with key members of the HCZ staff provided an in-depth understanding of the organization's approach to such topics as: parenting programs/education; preparing children to enter school ready to learn; engaging caregivers and community members; social services coordination; fundraising and development; and college and career preparation and support systems.
The Children's Cabinet is co-chaired by Mayor Nelson and Dr. Rosser and, as a coordinating body, brings together decision makers, leaders and community representatives to improve the lives of youth and families in the city. The Cabinet was formed in early 2020 in recognition of the fact that between Kindergarten and 12th grade, children spend 80 percent of their time out of the classroom and in the broader community.
Geoffrey Canada said, "We are excited for the wonderful work Poughkeepsie Children's Cabinet is doing to change outcomes for underserved and under-resourced children in Dutchess County. We hope the delegation's visit to our Practitioner's Institute provided them with further insight into our model and left them with renewed conviction to put their young people on the pathway to economic mobility."
Dr. Rosser said, "My excitement for what the Poughkeepsie Children's Cabinet means to children and families of the City of Poughkeepsie was elevated from seeing what is possible through the type of work HCZ engaged in to transform their community. HCZ is a perfect example of how a school, home, and community approach can positively impact the lives of children prenatal to college and career."
Mayor Nelson said, "Spending this time at HCZ was both invaluable and insightful. In Poughkeepsie, we are in the process of solidifying the Children's Cabinet's role and governance, and we have all the ingredients to do so. The city is proud of the strong partnerships we have developed through the Children's Cabinet — and of our efforts to greatly expand our reach to aid youth through an increase in annual youth program funding, and through the creation of a city Youth Division."
Dutchess County Executive William F.X. O'Neil said, "The Harlem Children's Zone is doing remarkable work, starting as it did block by block and now becoming an international leader in the development of a comprehensive strategy to ensure all children have a chance to grow and prosper. Working with the Children's Cabinet and HCZ is precisely the type of partnerships the county had in mind when we started our Path to Promise initiative, created to identify and help provide all young people in Dutchess County, from birth through age 19, the assets they need to achieve their full potential as they grow into young adults."