Return to Headlines
Rounds aim to improve education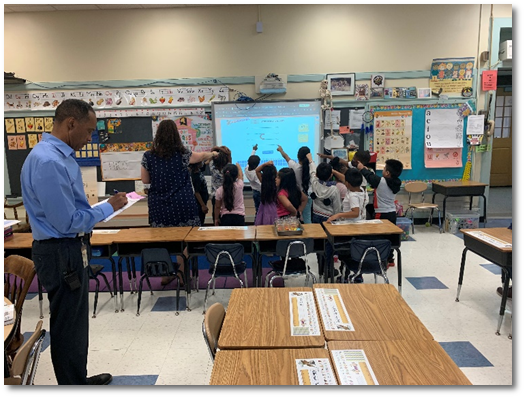 In response to placing a greater emphasis on the instructional program as a means to accelerate student success in Poughkeepsie, district leadership, inclusive of Dr. Eric Jay Rosser, superintendent of schools, Dr. Timothy Wade, assistant superintendent of administrative services, and Ms. Louise Lynch, assistant superintendent of business will be joining administrators from the Elementary and Secondary Education in conducting Instructional Rounds and classroom visit throughout the academic year. "It's important that every cabinet member is involved in understanding and supporting the educational process through the work we engage in regardless of role and function in the district," shared Rosser.
Visits are not part of evaluations but are being used to gather and highlight best practices, help teachers grow and to gather data in order to target areas for professional development. Combined, these efforts will result in improved techniques and increased student achievement.
Elementary rounds will focus on effective instructional practices.
In September, Lesson Objectives (how a lesson supports the skill being taught) and Instructional Activities (questioning techniques, methods of differentiation) are the two areas being looked at in ELA, Wilson Fundations and Math classes.
"It is meant to help us see the practices they have, what they are able to do and it allows us to turn around and provide support for them," Supervisor of Elementary Education Patrice Woods said.
Since the district is introducing the Wilson Fundations curriculum this year, it gives the department a sense of how familiar teachers are with the program and where additional professional development and support is needed.
"The ultimate goal is student achievement and the way to achieve that is working with teachers, observing what they do and building their capacity which will impact students," Director of Elementary Education Janet Bisti said.
The rounds also help build the capacity of principals and assistant principals. "We want to build building leaders' capacity and ability to provide feedback to teachers as the principals and assistant principals oversee instruction in the buildings," Assistant Superintendent for Elementary Education Greg Mott said.
Classroom visits take place twice a week, with the goal of being in each school at least once. During the rounds, a document is used to track observations, best practices and other data to help the district make informed decisions on what type of district-wide professional development to offer.
Teachers will receive a Google form with observational data and feedback.
October's focus area will be modeling. Modeling is a teaching strategy where a teacher explicitly shows the students how to complete an activity or assignment before the students begin.