Return to Headlines
Dual language program launches at ELC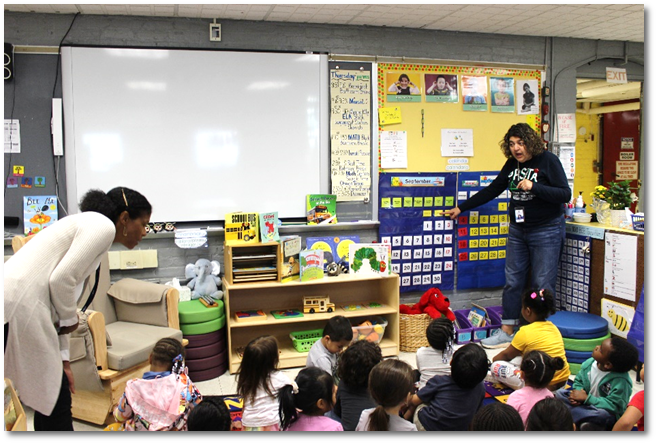 Students in the inaugural year of the district dual language program enter classrooms where many objects and posters are labeled in blue and green. The English appears in blue while the Spanish is in green, a theme that is consistent in the pre-K classroom downstairs and the kindergarten class upstairs.
Since the program is new, students and teachers are learning as they go and there are learning opportunities everywhere.
At one point in the kindergarten class, a student complained that he asked a classmate to stop doing something, but the student didn't seem to listen.
"He knows a lot of words in Spanish, we could try saying it in Spanish," teacher Kristina Parker, the Spanish teacher in the class said, then said, "Para!" emphatically, and had the class repeat it, explaining that para means stop."
Parker's teaching partner, English teacher Maribeth Smith, said the two are still working on helping the children adapt to the rituals and routines of school - how to come in on a line, how to transition to other activities, what the chimes mean and how to ask questions. "Both languages are used all day long," she said.
English teacher Joy Marino and Spanish teacher Marsha Cotten teach the pre-K dual language class, with Cotten joining the district specifically for this opportunity.
"I am so appreciative to be here and that this is happening because it is so needed in our community," she said. "This gives students an opportunity to be bilingual and bicultural and says, 'you belong here and who you are matters.'"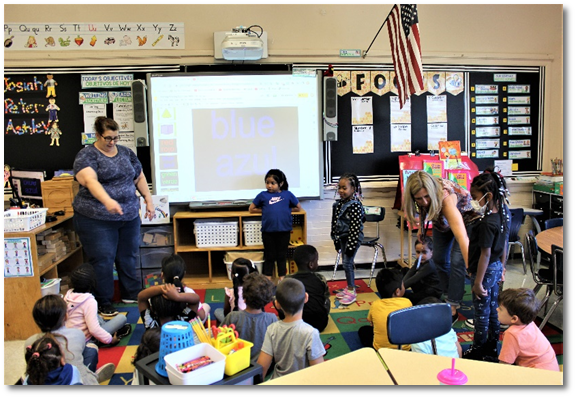 By design, the program mixes speakers of the languages in equal proportion to help aid in absorption of the language and culture.
"It is planned integration because we wanted to make sure that they learn and interact with each other," Parker said.
Eventually, the classes will move to teach English on one day and Spanish on another and alternate, but students will still be able to use their first language.
The goal is to move from alternating days to two days of one and three of the other so that by June the classes can do one week of a language before switching to the other language.
"We won't shut down children using their native language. We're building a community where children will learn how to respect each other's culture and language," Smith said.
The English curriculum is McGraw Hill's "Wonders" or "Maravillas" while the skills part is "Fundations" for English and "Estrellitas," which translates as Little Stars in Spanish.
"We're very excited," Cotten said, explaining that she and Marino are sharing ideas and making changes to "do the best we can for the children and the program's success."
ENL Coordinator Tracey Bleau said the four teachers in the program will begin meeting together and working collaboratively next week and said that response from parents has been positive.
The program is near capacity with 18 students in the pre-K program and 21 in the kindergarten class.