Return to Headlines
City, district share bilingual position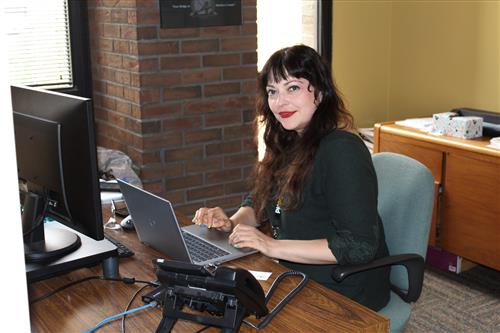 Poughkeepsie City School District Superintendent Dr. Eric Jay Rosser and City of Poughkeepsie Mayor Rob Rolison announced today the hiring of L. Julee Molina as a bilingual Public Information Officer, a new shared position between the school district and the city.
Molina brings with her considerable experience, having served as communications and marketing manager in various capacities. She is a former Communications Manager at RUPCO, Marketing Manager at Gasko & Meyer Inc., and Communications Manager at the Dutchess County Regional Chamber of Commerce.
In this new position, Molina will be a liaison for the school district and City government with the Latino
Community. She will help prepare informational materials, and will meet and participate with various community organizations working on projects throughout the city.
"We have identified this as an extremely important position for the school district. For the past several years the number of Spanish speaking students has increased; it is important as a parent and community engagement strategy that we continue to transform the district to be able to meet the needs of the City's growing Latino community," said Dr. Rosser. "We are excited to bring Julee on board and believe this is another positive step in developing our partnerships with all members of the community."
Dr. Rosser pointed out that of the more than 4,100 students enrolled in the School District, 38 percent are Hispanic or Latino, and 8 percent are multiracial.
Mayor Rolison said, "Having more Spanish-speaking staff has obvious benefits, and, in this case, we have been able to work with the school district to create a position that focuses on a growing population. Building trust in all our communities is essential to carrying out our work as public servants."
The Mayor said working with the school district to solve longstanding challenges has been one of his priorities as mayor.
In 2020, Mayor Rolison and Superintendent Rosser created the Poughkeepsie Children's Cabinet that includes college presidents, nonprofit partners, philanthropic and foundation members, community stakeholders and others. These decision makers, leaders and community representatives have come together to work to improve the lives of youth and families in the city. The Cabinet was formed in recognition of the fact that children spend 80 percent of their time out of the classroom and in the broader community.
Molina said, "I am eager to start this position, and I am grateful the school district and the city government have identified this need and are looking for creative ways to address the Latino/Hispanic communities we serve."
A public "meet and greet" event with Molina and other school and city officials will be scheduled for September.
The public can reach Molina at 845-451-4241, email lwhalin@cityofpoughkeepsie.com or lmolina@poughkeepsieschools.org