Return to Headlines
Church purchase will expand arts education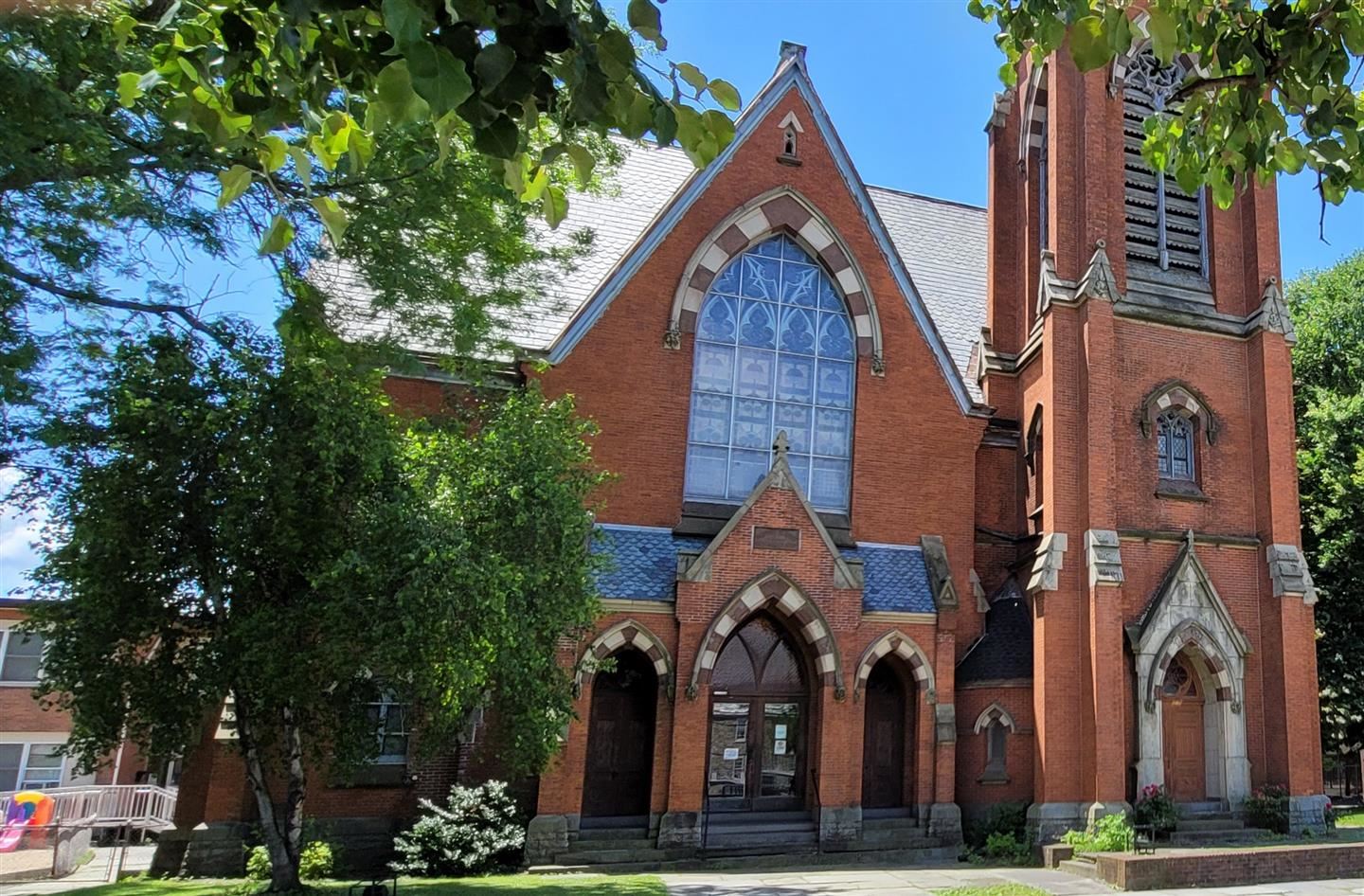 The Poughkeepsie Board of Education (BOE) approved district leadership to move forward in acquiring the Changepoint Church property as a multiuse facility that will serve the needs of the Poughkeepsie City School District, the Board of Education, student music and arts programming, and community programming and functions.
PCSD wants to buy the Changepoint Church property, 260 Mill Street, for use in arts education programs and as its new administrative building.
After the board's approval Superintendent Dr. Eric Jay Rosser shared with the community that the space will be used to house the district's central office functions, Board of Education meetings, and community functions. And as part of PCSD's continued investment into Arts Education, the facility will also be used to expand opportunities for K-12 students, including performance spaces and student learning spaces (Learn more in "School district shares Arts education vision").
Student performance spaces
As part of the district's vision for Arts Education, the district is making significant investments in expanding arts programming and opportunities for all pre-K-12 students and engaging the arts community to support this important work. To date, that investment totals over a half million dollars. In collaboration with members of the arts community and the Public Arts Commission, the district plans to develop a comprehensive strategic arts education plan this upcoming fall, where the performance space at Changepoint will be instrumental in supporting the execution of this vision. Recently, elementary school art productions, including Annie Jr. and the PK Strings Summer Concert have received strong support from staff members, community members, and parents. They all support PCSD expanding arts education opportunities to students well before they reach middle and high school. At the middle and high school levels, the Fine Arts & Music Festival and Hip Hop Theater 2022 have also garnered a strong interest in the school district investing more into arts education.
Student learning use
The Poughkeepsie City School District's Pathway Transformation Initiative is designed to provide students with multiple career and occupational pathways that lead to post-secondary success from skills developed through participating in K-12 instructional programming. As part of the initiative, students will be provided with greater opportunities, in collaboration with community partners and businesses, to explore occupational interests that provide them with experiences and skills that will expand career opportunities beyond high school graduation. The Changepoint theater will provide students with hands-on experiences with theater production management during district and community events in the theater. This will naturally be a part of the district's workforce development efforts and expanding the pathways that students can achieve high school graduation.
Community programming and functions
The Changepoint facility is well known as a state-of-the-art facility offering opportunities for local and civic organizations to host events and meetings in the space. Under the Poughkeepsie City School District the theater space will still be made available to the community for use. Revenue generated from community use and programming will be reinvested into the Poughkeepsie City School District Arts Education program, further benefiting PCSD students.
Impact on district finances
The purchase of the property comes at a really good time for the district programmatically and financially. PCSD is no longer stressed for financial resources, which once served as a major impediment to the district providing basic services, supports, and resources to children as experienced three years ago. Given the district's three-year focus on resource stewardship, the district is not only providing for students' basic needs but is able to go deeper in its support for students, staff, and parents. Evidence of this is realized through the successes of the 5-year Strategic Plan and the additions to the instructional, student support, and operational programs reflected in the 22-23 budget (see 22-23 budget additions here). Major issues associated with the district facilities are being addressed through the $98 million Capital Improvement Project and additional funding that the district has secured to expand on the original capital project. Student supplies and materials are being provided at elevated levels in comparison to previous years. Curriculum materials and additional student resources are being provided at higher levels than before.
Taxpayer impact
Purchase of the property will have no tax impact on the city's taxpayers or take away from student programming. Funds will come from a Capital Reserve account developed to support the purchase of another administrative building and future capital projects. You may recall the former administrative building sustained major damage in spring 2019 and forced central office functions to occupy instructional space that students no longer have access to. The Columbus building currently serves as Central Administration and will need to be converted, in part, for potential swing space for student instruction as the $98 million dollar capital project progresses.
When asked about the district acquiring the Change Point facility Dr. Eric Jay Rosser, superintendent of schools shared, "The vision for the use of Changepoint has been greatly led by the community's vision for what the Poughkeepsie City School District should be and offer Poughkeepsie City School District students, as well as the emerging opportunities and partnerships with organizations and members of our communities. Parents, organizations, and community members continue to help shape the Poughkeepsie City School District through thought partnership and concrete action."