Return to Headlines
Students return to PHS, share thoughts and ideas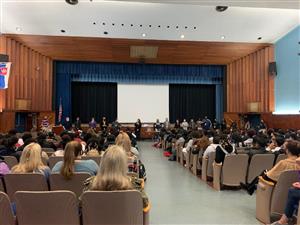 Juniors and seniors returned to Poughkeepsie High School today, but instead of regular classes, were greeted with an opportunity to suggest solutions to some of the issues they are facing, talk to district and county student support staff about Monday's incident on Forbus Street and learn about safety enhancements made and at the school. It was also a chance for Principal Kelleyann Royce-Giron to reinforce expectations and existing protocols.
PHS Principal Kelleyann Royce-Giron introduces the 13 student support staff to 11th graders.
Superintendent Dr. Eric Jay Rosser canceled classes at the school for a scheduled half-day Tuesday and all day Wednesday and Thursday in order to speak with staff and create a structure for students' return that would address their social and emotional well-being and allow additional safety measures to be put into place. Those measures include:
Presence of law enforcement at arrival and dismissal times
Additional staffing to enhance the flow of students during class transitions. Rosser indicated that four of the seven additional safety monitors had been approved through the civil service process and were training in the district.
Installation of audible alarms on exterior doors (PHS and at PMS)
Regularly scheduled sweeps of school hallways
Enhanced perimeter checks
Presence of monitors at key points in hallways throughout the school and cafeteria
Adding another set of doors available for use during dismissal thanks to additional staffing
K-9 sweeps of lockers
Mental Health supports for students
Students had a modified schedule for the day, gathering together by grade level in the auditorium for an initial discussion, breaking into small groups during which students were asked to jot down what they thought some of the issues are facing the school and their ideas to address them, reassembling for a group session, lunch and then a review of the day and evacuation protocols.
"Today is about reflection and restoration and bringing us back to the importance of those expectations, policies, code of conduct and supports," Royce-Giron said after the initial morning session in the auditorium.
Rosser and Royce-Giron walked the hallways checking in with staff and students, answering questions and providing reassurance.
"This is an opportunity for student voices to be heard in a larger capacity for their ideas, thoughts and emotions about internal and external events and how they impact them," Royce-Giron said, telling one small group that "we won't put something into place without you knowing what is happening."
That comment came as Royce-Giron walked into a classroom that was discussing some of the new protocols and students asked a question about the K-9 locker checks.
She explained that the law allows for police dogs to check lockers, but that it cannot be done while students are in the hallways.
Some student ideas and concerns that emerged during one class' small group discussions included:
Alternatively placing students who do not conform to the traditional school environment
Having student monitors in the halls
Crowding in the bathrooms
Requiring uniforms
"I think this is a good chance to have our words heard more and to give the older students a say in the school," Ariel Dandridge, a junior, said.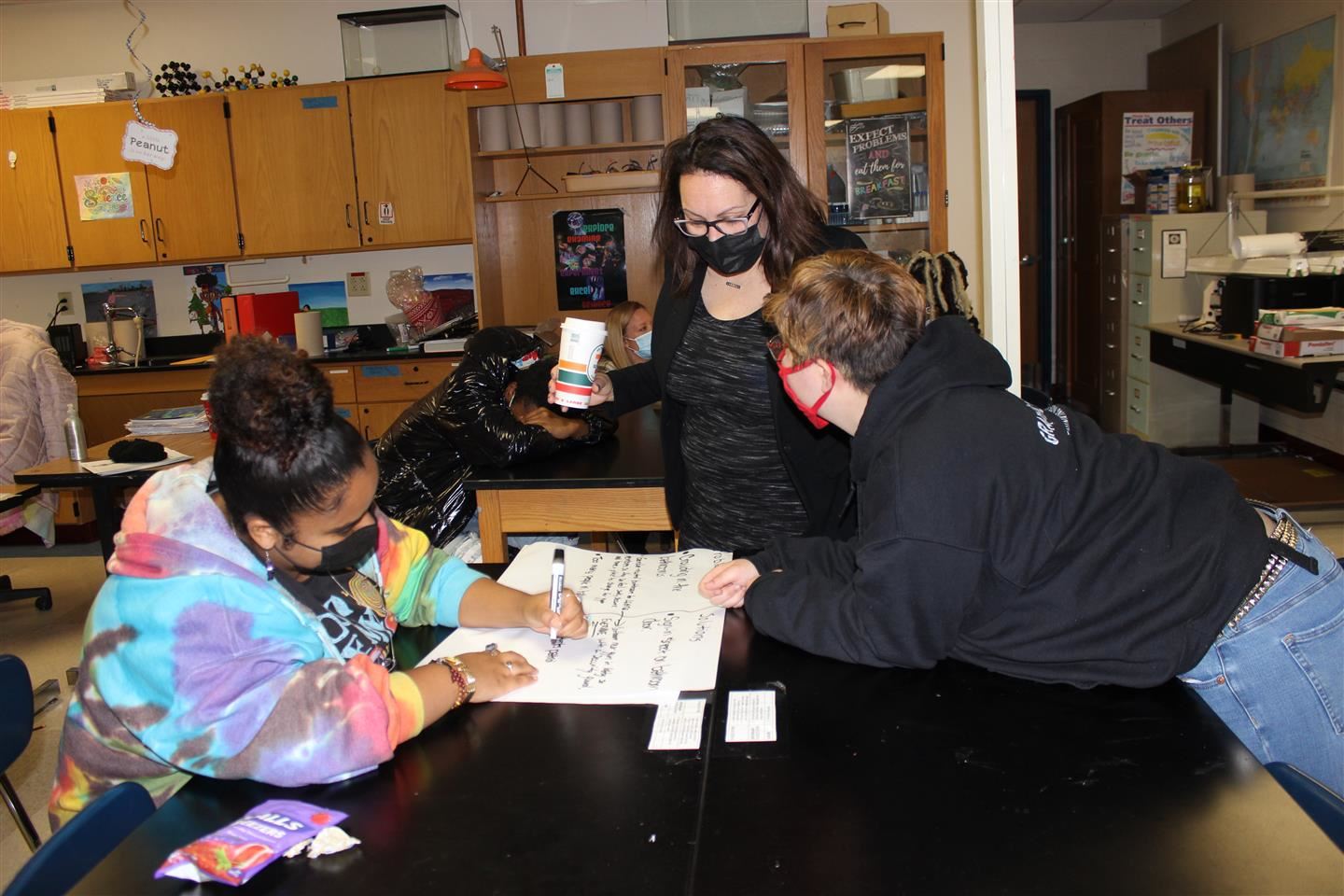 Ariel Dandridge, a junior, writes an idea on a large sticky note while speaking with PHS Principal Kelleyann Royce-Giron and fellow junior Maven Frederick during a small group discussion session Friday, Nov. 19, 2021.
Maven Fredericks, also a junior, was glad to be back in school. "I like to learn and I don't like feeling behind," he said. "I'm excited to come back, but I think the school should talk about gun violence not only in school but in the community. School should be a place where we feel safe."
Rosser was able to address the juniors, sharing with them that every adult employed at the high school was there to support them reaching their aspirations of high school graduation. He noted that the school has 13 (soon to be 14) student support staff members that are in place to support them, and teachers who are committed to assisting them to achieve academic success. He stated "it will require us all to stay committed in our individual and collective responsibilities, and require students to take responsibility in this important work", citing the Student Responsibility campaign underway at PHS and PMS.
Royce-Giron reminded students that they were expected to adhere to the dress code, code of conduct and 'walk and talk' instead of stopping in the hallways during transitions.
And, she reminded students that if they did have conflicts or issues, there were places for them to go and people to speak with about them rather than bringing the conflict into the halls.
"There is no reason to air your issues in the hallways and lobby. If you need to, we have space for you - pull it into the garage," she said.
Royce-Giron planned to spend the weekend reviewing students' ideas, categorizing and prioritizing them and plans to do the same with the ideas generated by students starting back on Monday.
"I'll decide what can be done immediately, what we need to move to having more conversations with Dr. Rosser and other pieces that we may not be able to implement but which can become teachable moments where I can explain why." Dr. Rosser shared that many of the ideas students shared are already in the works such as alternative (behavioral and vocational) placements for students, instituting a robust PBIS system for students, and working on ways to reduce overcrowding in various spaces of the school environment.
Royce-Giron said days like today won't be a "one-hit wonder," and that she wants to incorporate such days of social and emotional wellness throughout the year.
Rosser shared that additional supports are soon to come as he has been receiving an outpour of support and assistance from various members of the Poughkeepsie community.