Return to Headlines
Retreat aims to strengthen central office team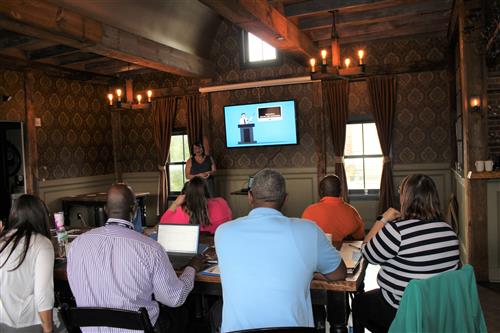 Central Office leaders are spending the bulk of this week at a retreat designed to help build a strong team and set goals for the coming year.
All but two of the 16 attendees had not been on the central office leadership team prior to Superintendent Dr. Eric Jay Rosser's arrival in August 2019 and many of the faces were new.
Rosser had everyone introduce themselves, talk briefly about their job, tell a personal fact and then the fun began with an exercise called, "That's my Bag." Each attendee had filled a bag with personal items and others had to go around, look at the contents of the bag and guess which attendee brought the bag.
It was a tough task, with nobody guessing more than five correctly.
Rosser identified four district goals for staff to focus on during the retreat:
Student achievement

Resource stewardship

Internal processes, systems and structures

Organizational effectiveness
Today, each department head gave an overview of what had been accomplished in the previous year and what their goals were for the coming year.
Executive Director of the Office of Students with Exceptionalities Iris Goliger shared that the district had 1,100 students with exceptionalities and that a third coordinator was being hired to help handle the cases. She shared that in the past year all instructional staff members received explicit direct instruction training and that a system was put in place to ensure that the district complies with all regulations. Among the goals for the coming year are improving student achievement, lowering the student suspension rate, improving the graduation rate and options for Career Development and Occupational Studies (CDOS) and reducing the classification rate.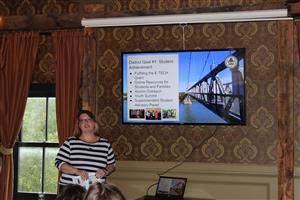 Director of Special Projects Kristina Giangreco reported that in 2020-21 the district fulfilled the E-Tech grant it had received years prior, held a youth summit, launched a Superintendent's Student Advisory Panel and provided a variety of online resources for students and families. In 2021-22, she's planning to update the school scorecards, continue the advisory panel, submit professional development plans to the state, help get the district Google certified and work on ways to increase alumni involvement.
For Greg Russo, director of physical education, health services, recreation and athletics, it's all about creating "an environment that promotes student-athletes' wellness and cultural well-being."
This past year he began implementing a new physical education curriculum and updating equipment - including installing video cameras at the football field, Poughkeepsie High School gym and Poughkeepsie Middle School gym so that events can be streamed live next year.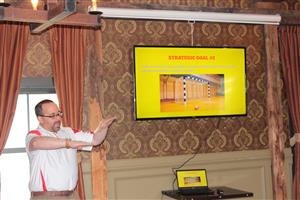 Russo said he wants to broaden support for student-athletes so they can cope not only with what's happening on the field but in their lives and community through a combination of staff and partner efforts.
He wants to expand professional development for coaches and create a "culture of high expectations" for all sports. "I want to advance an academic environment so students who participate in athletics exceed the district average."
The leadership retreat continues through Thursday.