Return to Headlines
Congratulations PHS Class of 2021!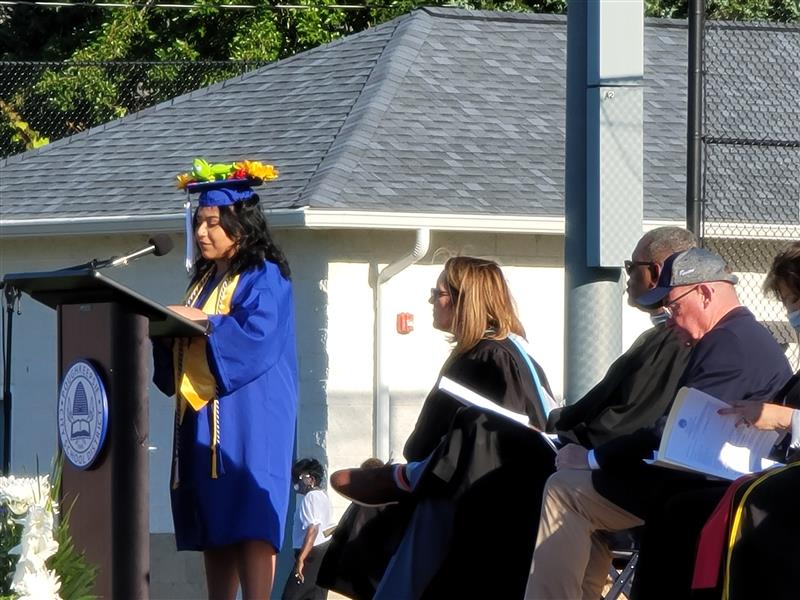 Blue skies and sun set the scene for Poughkeepsie High School's Class of 2021 graduation night. For many, it was a year of overcoming to become.
But, the 183 graduates did just that - fighting through a pandemic, learning remotely, the inability to see each other and their teachers for most of the year, social injustice and political turmoil, to paraphrase Heather Martino, one of the class advisers.
Poughkeepsie High School's Class of 2021 flip the tassels on their caps to signify they are graduates at the end of the ceremony.
Amber Minott, the class salutatorian, said she suffered from a lack of motivation. "I had to push myself to pass because I wanted to graduate," she said while waiting to line up for the procession to the field.
"We all struggled over these last 15 months. We should be proud of ourselves," she said, in her speech, adding that she didn't get here alone and thanking those who helped, including valedictorian Mickvick Tangunu, a close friend.
T'sura Williams shared that she failed the second quarter and was fighting depression.
"I prayed and I talked to myself," Williams said. "I did it for my mom and for me. She worked too hard for me to give my future to depression."
Williams plans to go into the U.S. Air Force.
Board of Education President Felicia Watson encouraged the class to "live life to its fullest, always love yourselves and believe in yourselves, don't be afraid of failure and dream so big that your dreams scare you."
Superintendent Dr. Eric Jay Rosser told the class, "You are the first class to successfully meet all the requirements of high school graduation during a global pandemic using technology as your primary learning environment. You are here because you used stumbling blocks as stepping stones to achieve your high school graduation."
He told them this experience will be invaluable to them as they move forward in life.
When Tangunu gave her valedictorian speech, she encouraged the class to "forge your own path regardless of the path you choose. The only limits are the ones you set for yourself," she said. She too thanked those who helped her get to this day, including Minott for keeping her on track.
"You are remarkable. You were thrown into big issues, you had to make big decisions and you embraced them and moved forward," Martino said, before presenting the class gift - a tree for the PHS courtyard - something near and dear to Principal Kelleyann Royce-Giron's heart and her experience as a student at PHS.
Keynote speaker Robert Johnson, a 2012 graduate of PHS and director of multicultural affairs at Sacred Heart University used the word faith as an acronym to deliver his message.
Fear - do not let fear be the reason you don't succeed
Awareness - have awareness that the journey won't be easy and it is ever-changing
Inspiration - be an inspiration to someone - "your contribution doesn't have to be monumental."
Transform - be willing to change
Hungry - "Be hungry for and relentless in the pursuit of your dreams"
Royce-Giron held off the tears until the point in her speech where she referenced the empty chair behind the honored guests on the stage. It was left empty for "any loved ones that couldn't be here" including Tree Arrington, coach Chris McLaurin, PHS nurse Joanne Bardin and microcomputer support specialist Chris Kearse.
"These four individuals probably impacted every person in these chairs today. The chair is empty, but their spirit is present today," she said.
Royce-Giron told graduates that they often had an impact on staff. She left them each a small package of tissues to remember her and PHS by.
"I pray I made you proud," she said in closing.
Danasia Parker was grateful for the ceremony and the day. "Our whole senior year was taken away. We haven't seen friends but we were able to come together the last couple of days and get our year back." She plans to attend the Culinary Institute of America and major in food and business management.
Student government president Briceida Reyes-Martinez said, "It feels really weird. Your whole life you see the same people. We went to elementary school together and now we're going our separate ways."Looking back on her time at PHS, Tangunu said the most memorable experience is how competitive gym class was. "We take it very seriously."
Student board liaison Erick Vasquez-Maldonado feels like "It went too fast. We didn't get the full high school experience," he said. "I'm proud of everyone and myself for getting this far. It's sad to leave, but we have to go."