Return to Headlines
Senator honors Superstars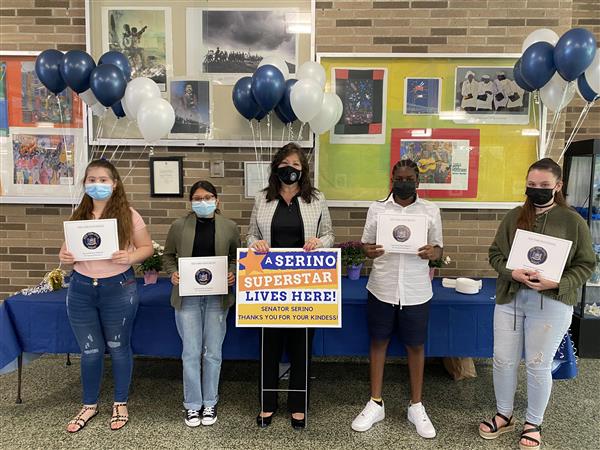 The recognition ceremony ended with a photo of, from left to right, Ximena Alarcon, Naomy Valle-Netzahuatl, Sen. Sue Serino, Jamir Hawley and Amiyah Wood. - Courtesy/Office of Senator Sue Serino
Sen. Sue Serino honored four Poughkeepsie Middle School students with Serino Superstar awards June 17 during a special afternoon ceremony hosted by the Social Studies department.
The students: Amiyah Wood, Jamir Hawley, Ximena Alarcon and Naomy Valle-Netzahuatl were present along with their parents.
Teachers Jennifer Burke, Christopher King, John Hines and Jackie Spadaro nominated the students for the award which is designed to recognize students who demonstrate exceptional kindness.
Burke nominated Wood because she is, "a breath of fresh air during this very difficult time. She is kind, compassionate and always available to offer a helping hand to me or her peers."
Hines and Spadaro nominated Valle-Netzahuatl for her positivity. "Naomi was always prompt and prepared for all our meets. When it came time to return to school for in-person learning, Naomy was a role model for her peers," they wrote. "When other students joined the in-person class, she would help them in our classroom and help them navigate the halls of the middle school."
Hawley brings kindness and humor to the classroom, all while being a reliable participant in the lessons,
King wrote. For example, King said he'd perform a rap song if 20 of the 23 students handed in their assignment on time. Hawley "worked extremely hard to make sure that all of his classmates understood the content so they would be able to complete the assignment. He encouraged all the students, especially the least motivated to work their hardest." In addition, King said "he adds insight and shows a deep understanding of American History. He displays kindness and leadership in unexpected ways during these uncertain times."
Alarcon, "is a great student and an even better kid. Her personality brightens the entire virtual classroom environment," King wrote. She is an ELL student who speaks English well and is working hard to learn how to read and write in English. "She always participates in class and completes her assignments. She learns from mistakes better than any student I have ever had over my 18 years of teaching."Serino was impressed with the way the school handled the awards.
"This is the first time a school has ever held such a formal ceremony for my Superstar award. It's absolutely spectacular," Serino said.
Each student received a certificate, lawn sign and a photo with Serino.
"We want to thank Senator Serino for providing this wonderful opportunity for our students whose kindness makes them true superstars," Principal Joe Mazzetti said.
Eighth grade assistant principal Kenneth Behr added, "We are extremely proud of our Poughkeepsie Middle School students who excel not only in the classroom but out of the classroom. They are the epitome of what it means to have Pioneer Pride."