Return to Headlines
Event honors staff who make a difference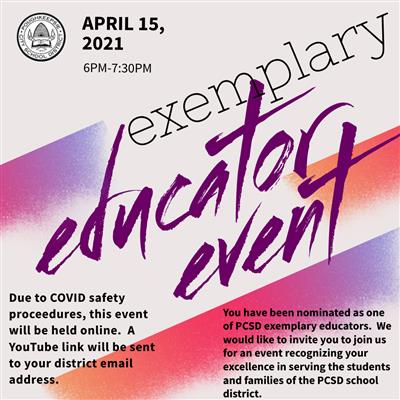 As part of the district's effort to recognize the efforts of its highly qualified and committed staff, the Poughkeepsie City School District honored 51 individuals making a difference in students' lives during the first Exemplary Educators event April 15.
Plans call for this to become an annual event each spring.
"We wanted to include all members of the PCSD community because the district recognizes that student success comes from many different people and we appreciate all employees' drive to help PCSD students," Director of Special Projects Kristina Giangreco said.
Principals, directors, assistant superintendents and the superintendent made the nominations. In total, 25 teachers, 20 support staff and 6 administrators were recognized. Selection of the finalists was done by a committee that reviewed nomination forms and rated them on a rubric. The administrator was chosen by the District Cabinet Team.
"Working in education is hard and it takes a lot of perseverance and grit - especially this year. We all chose to work in education because we have a passion for helping students and families," Giangreco said. Dr. Eric Jay Rosser, superintendent added "recognizing those who are members of our prestigious field of education should be commonplace for school districts across the country. What profession has a more important obligation to educate the future of our communities?"
The nominees
ELC: Teachers - Sue Ammon and Noelle Willis; Support staff - Roxane Haggerty Clinton: Teachers - Julia Farrell-Falco, Aleen Josephs-Clarke, Anais Rojos-Castillo and Michael Smith; Support staff - Alyssa O'Donnell Krieger: Teachers - Traci Cillis, Kenneth 'Skip' Hoover, Alicia O'Connell, Mary Ellen Trocino; Support staff - Lorraine Vallellanes Morse: Teachers - Jennifer Ennist, Cheryl Haines, Cheryl Mongroo, Rhonda Nelson; Support staff - Bianca Dubois, Kiera O'Loughlin Warring: Teachers - Tanya Holk, Colleen Lynch, Angela Perez; Support staff - Ehyrsys Castellanos, Juliana Emanuel PMS: Teachers - Regina Fris, lalana Hunt, Ann Marie Tucker; Support staff - Janiqua Faircloth PHS: Teachers - Mark Bianco, Catherine Bryson, Margaret Piro, Kelly Semexant, Janiqwa Worsley; Support staff - Evelyn Avelado, Melissa Gilroy, Doreen Henry Central Office: Janice Bishko, Lisa Clark, Julie Maserjian, Sherry McGrath, Elena Rosado, Jason Sneyd, Becky Torres, Lisa Velez, Barbara Williams Administrators: Natasha Cherry, Jenna Ferris, Kristina Giangreco, Samantha Mitchell, Kelleyann Royce-Giron, Dr. Timothy Wade
"Because of your contributions, Poughkeepsie City School District students have more opportunities to receive the quality education they deserve. Congratulations on all you've been nominated for," Rosser said. Poughkeepsie Public School Foundation Executive Director G. Angela Henry spoke of the importance of education at the event. She acknowledged the key role parents play, and said this of schools: "But, the education that happens in schools is incomparable - The interaction with peers, teachers, support staff and administrators. The school lessons and the life lessons that are learned."
All nominees received a certificate and pin recognizing them as a nominee. Finalists receive those items and an award.
Keynote speaker a PHS graduate
The Keynote speaker was a 2002 Poughkeepsie High School graduate who shared an important message on the influence educators have on student learning and success. Chloe S. McLaurin, a special education teacher in New York City, spoke of an experience she had in seventh grade, during which a teacher embarrassed her after she provided an incorrect answer during a test review, saying, "Chloe, c'mon. Really, you didn't know the answer?" McLaurin said the teacher's tone, mannerism and body language, combined with her classmates snickering, made her want to disappear. She did, moving to the back of her classes, reducing her efforts and losing interest.
"I wish that teacher would have taken the time to learn who Chloe was as a learner. It wasn't that I was incapable of learning and obtaining the information. I lost trust and I shut down," she said.
But, then she met some PHS English teachers who reignited her passion and turned her life around.
"They saw something in myself or something that I wouldn't let anyone else see because of the wall I had built up." McLaurin closed with, "I encourage all administrators, teachers and support staff to continue to go above and beyond the call of duty. Mirror what it is to be a lifelong learner. Be kind, be compassionate, be understanding, instruct, but don't forget to construct learning." After all, she said, "they may forget what you taught them, but they'll never forget how you made them feel."
And the finalists are…
PPSTA finalist Rhonda Nelson "has shown time and time again her selflessness and willingness to be a team player for her colleagues in Morse School," Interim Principal Samantha Velez-Mitchell said. "She voluntarily became a technological guru and openly shared her knowledge with her colleagues for the benefit of all students."
Support staff finalist Alyssa O'Donnell is the school nurse at Clinton Elementary School. "She stepped in when needed and readily participated in the Health and Safety Implementation Team," Principal Dr. David Scott said. "Ms. O'Donnell has been an invaluable resource in ensuring the safety of staff and families in addressing all of the needs during the pandemic. … She has been able to ascertain needed information to keep each school open to the greatest extent possible."
Director of Special Projects Kristina Giangreco has a role in many different aspects of district life. "Mrs. Giangreco is always willing to lead various tasks requested of her! She has displayed the ability to take raw ideas and shape them into comprehensive plans to implement effectively," Greg Mott, assistant superintendent for elementary education, said introducing her nomination.
Board President Felicia Watson thanked all the district employees, the nominees and the finalists. "It is an honor to have you choose to be an employee of the district," she said. She also thanked Giangreco for providing attendees with care packages full of popcorn, confetti, balloons and other celebratory items.