Return to Headlines
Morse literacy lesson ends with ice cream experiment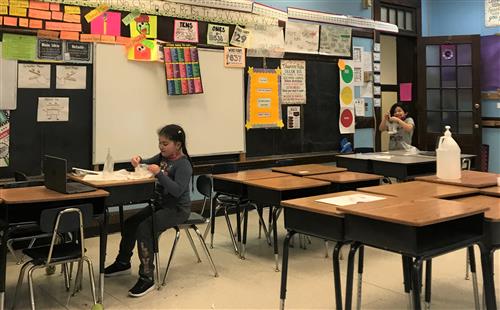 Students in Erica McIntosh's class try some of the ice cream they made.
Students in Erica McIntosh's second grade class at Morse Elementary School recently learned all about how ice cream is made AND were able to try making their own in class and at home!
The sweet treat was part of Ag Literacy Week.
Each year, New York Agriculture in the Classroom and Dutchess County 4H team up to bring a different agriculture lesson to students in Dutchess County. The last time they chose dairy was 10 years - when the program first launched, said Emma Jenks, 4H educator and club manager in Dutchess. The program includes a book, videos and a kit for a hands-on activity.
This year's book was, "Chuck's Ice Cream Wish: Tales of the Dairy Godmother," and the kit was, you guessed it, ingredients to make your own ice cream - minus the ice, of course.
McIntosh said that through the book and videos (some of which were done locally by 4H), her class learned about dairy farms and how ice cream is produced from cow to cone.
"The kids were really engaged," she said.
Normally, someone from 4H would present the program in the classroom and do the hands-on experiment with the kids. However, due to COVID that wasn't possible. So, McIntosh made arrangements with parents for them to pick up the books and materials before she did the lesson.
The program provided an interdisciplinary lesson where students had to read, analyze, use math and science.
When it came time to do the actual experiment, the kids were excited. "They wanted to do more experiments," McIntosh said, explaining that even after going through the lesson step-by-step the ice cream was more of a liquid than soft serve.
"Some of the kids said, "Maybe I can put it in the freezer overnight."
Student Rose Santiago said, "I watched a video on how ice cream is made from a factory. I learned how to make ice cream in a bag using half/half, vanilla, ice, sugar, and salt. I had to shake the ingredients in a plastic baggie for 2-3 minutes. It was fun. It tasted like vanilla ice cream."
Fellow student Sincere Thomas learned that the boy who wanted ice cream in the book had to do chores on the dairy farm and follow the steps to make the ice cream. "My favorite part was when I put the small bag in a big baggie and shook it up. It was lots of fun. I used lots of vanilla and it tasted good."
Thank you to New York Agriculture in the Classroom and Dutchess County 4H for bringing real-life, hands-on learning experiences and literacy programs to our schools.
If you would like to see a video of the book being read in English by a variety of readers or in Spanish by Diana Obregon Corredor, visit ny.agclassroom.org. To see a video about how ice cream goes from cow to cone in Dutchess County, visit https://youtu.be/6j_7Xppa3Qc.