Return to Headlines
PCSD plans more student supports, programs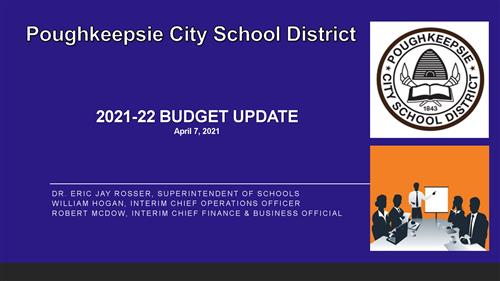 New York State released its aid runs Tuesday night, bringing good news to the district.
Poughkeepsie City School District will get $4.4 million more than the governor's proposal in January and receive an additional $1.4 million in pre-K funding.
Combined with $6.6 million from the Coronavirus Response and Relief Supplemental Appropriations Act of 2021 and a $4.9 million increase in American Rescue Plan funds, the district will be able to reduce the tax levy increase from the tax cap of 2.198 percent to 1.40 percent, Interim Chief Operations Officer William Hogan said.
This news also means the district can extend its Academic Recovery Program (ARP) from two to three years. The ARP is designed to provide personalized and collaborative academic and social emotional support to PCSD K-12 students. The goal is to provide students with focused instruction, enrichment, and social emotional supports.
While analysis of state and federal funding continues to ensure PCSD meets all requirements, district leadership is proposing the following for consideration to help bolster student supports and programs:
Restoring assistant principals at Clinton/ELC, Morse, Krieger and Warring schools
Adding a special education/transition counselor
Adding 12 Academic Intervention Services (AIS) teachers in elementary/secondary schools
Adding two ELL teachers, one for the district and another for Morse/Krieger
Adding three special education teachers (Morse, PMS and PHS)
Adding a total of five new custodial team members
Avoid borrowing $1.5 million for the BOCES capital improvement project
Paying off the $1.9 million BOCES bond anticipation note, eliminating $227,800 in annual payments and taking the pressure off future budgets
Increasing cyber coverage and escalation insurance
With the City of Poughkeepsie, hire a bilingual communications person to translate materials and conduct community meetings.
Hogan told board of education members Wednesday that the district was anticipating a surplus this year due to fiscal oversight, the governor not withholding 20 percent of state and the modified instructional model due to COVID-19. This will allow PCSD to purchase reopening supplies, special education supplies and equipment, instructional supplies, library materials, physical education supplies and athletic equipment and start replacing furniture.
"By purchasing these items this year it reduces the pressure on future budgets," Hogan said. "This has been a phenomenal state-aid year at the state and the federal level. It allows us to do a lot of positive things in the district.
Board President Felicia Watson praised the work district leadership has done on the budget, saying she was "overjoyed at what was being presented when you think about where we were a year ago."
You can view the entire presentation at about the 36:22 minute-mark here. Alternatively, see the slideshow only here.