Return to Headlines
Collaboration Brings Murals To PHS Hallways
October 21, 2019-- You can't help but see the large murals adorning Poughkeepsie High School's walls. They are a collaboration between students and a muralist who works with them.
The latest one, seen on the walls to the right of the main lobby, was started the Wednesday of the second week of school and completed in only four days.
Art Department Chair and Art Club Advisor Heather Duncan-Carter said she noticed that the murals on the walls were "outdated" when she came to the high school about four years ago. Her mission was to "freshen things up."
About 140 students worked on this year's mural with muralist Joe Pimentel.
Without a visiting artist dedicated to it, a project that size would take a year to do in between classes. Under the program, Pimentel designs the mural after Duncan-Carter and students discuss it. This year, students wanted something that would be interactive and could be used on social media, hence the space between the angel wings on "PHS Pride Mural" where students can pose.
Then, Duncan-Carter funnels groups of kids to him throughout the day.
Freshman Jason Inigo is one of the students who worked on the project.
"Before, I didn't like painting. Now I like to paint – it opened me up to it with the art and patterns," Inigo said.
Pimentel assigned the students to work on specific areas.
Inigo said he enjoyed working on the mural so much that in addition to his assigned times, he'd take two hours from study hall and go back to work on it. The project sparked an interest in art to the point that Inigo said he'd like to try sculpting next.
Pimentel was paid through an annual fundraiser done through Hudson Valley Tattoo Co. that occurs in November.
This isn't the first mural Pimentel has worked on with PHS students. Several others are throughout the school.
Duncan-Carter said she's considering another mural for later this year, but it depends on fundraising.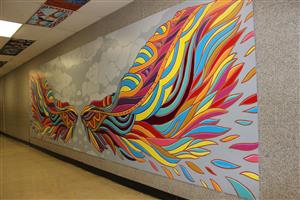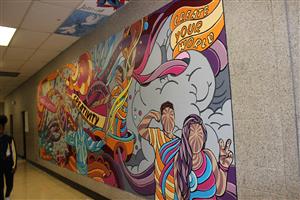 (Prior to this year's mural, artist Joe Pimentel worked on these murals with PHS students)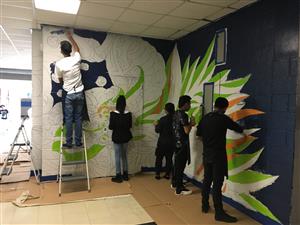 (PHS students Edgar Perez-Gomez, Ariel Barrett, Margaret Chau, Kevin Aguilera, and Alexis Castallano add color to this year's mural.)
(A view of the completed mural as seen from the hallway by the main office.)