Return to Headlines
District receives $500K IBM cybersecurity grant
Poughkeepsie City School District's cybersecurity is getting a boost from a $500,000 in-kind grant from IBM.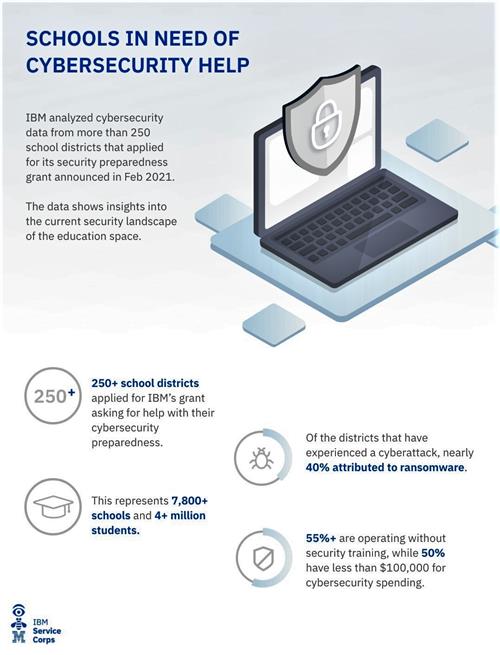 The district is one of six nationally (and the only one in the tri-state area) to receive the IBM Education Security Preparedness Grant that will bring a team of IBM Service Corps volunteers to the district for four weeks this year to help PCSD prepare for and respond to cyberattacks. Services can span everything from password hygiene and implementing strategic communication plans, to creating an incident response plan, according to IBM.
In December 2020, the Federal Bureau of Investigation, the Cybersecurity and Infrastructure Security Agency and the Multi-State Information Sharing and Analysis Center (MS-ISAC) issued an advisory indicating that cyberattacks against K-12 educational institutions were increasing. "The percentage of reported ransomware incidents against K-12 schools increased at the beginning of the 2020 school year. In August and September, 57 percent of ransomware incidents reported to the MS-ISAC involved K-12 schools, compared to 28 percent of all reported ransomware incidents from January through July."
PCSD experienced this first-hand. On Feb. 25, 2020, the district experienced a ransomware attack that blocked access to a particular drive, resulting in the loss of access to documents stored there. Thankfully, no personal data or student data was compromised. Steps were taken to secure the system and the server was replaced.
"As cyber-attacks become more frequent, having a company like IBM, with its expertise, give us recommendations on how to become more secure is a great advantage," Timothy Wade, the district's assistant superintendent of administrative services, said.
Nadine Dargan, interim director of instructional technology, echoed that. "IBM can point us in the right direction and point out any flaws that we need to address quickly."
Poughkeepsie was selected to receive the grant among more than 250 other school district applicants, which represented more than 7,800 schools and over 4 million students.
"We'd like to congratulate Poughkeepsie City School District on being selected for the IBM Education Security Preparedness Grant," said Christopher Scott, Director of Security Innovation, Office of the CISO, IBM. "With ransomware attacks against schools on the rise, it's important, now more than ever, that schools take proactive steps in securing their cybersecurity posture."
Selection was based on cybersecurity needs and experiences, community resources and potential risks, IBM said.
Superintendent Dr. Eric Jay Rosser is grateful for the opportunity.
"The Poughkeepsie City School District is extremely excited to be one of six organizations to be selected to receive the IBM Education Security Preparedness Grant. As school district's across the country have seen a spike in school district cyberattacks that have immobilized operations, the benefit of the Poughkeepsie City School District being selected is enormous. PCSD looks forward in IBM's support in strengthening our cybersecurity posture," Rosser said.
The other school districts receiving grants were:
Brevard Public Schools – Viera, Florida

KIPP Metro Atlanta Schools – Atlanta, Georgia

Sheldon Independent School District – Houston, Texas

Newhall School District – Valencia, California

Denver Public Schools – Denver, Colorado