Return to Headlines
Students lead equity efforts, present to high school staff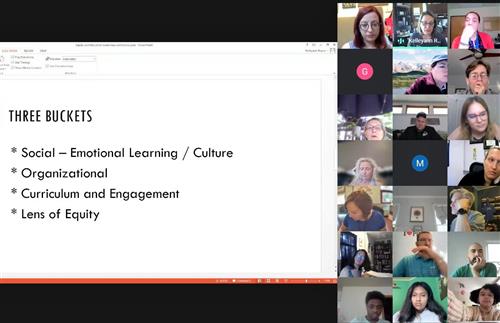 Empowered by Principal Kelleyann Royce-Giron, five PHS students are leading efforts to make changes at Poughkeepsie High School with regard to equity.
Amya West, Unyque Webb, Briceida Reyes-Martinez, Harrison Brisbon-McKinnon and Angie Vivero attended the inaugural Equity and Education Leadership Conference offered by Dutchess BOCES' new Center for Educational Equity and Social Justice earlier this month along with Royce-Giron and teacher Shanna Andrawis.
West, Webb and Reyes-Martinez joined Royce-Giron on Wednesday's PHS staff meeting to talk about the conference and offer suggestions on how to make PHS more equitable. "These five young people have become equity ambassadors to move the work," Royce-Giron said.
"We need more celebrations and events," Webb said, explaining, "I'd love to see more kids be engaged."
He talked about the importance of students being able to identify who "their person" is at school - the teacher or staff member they can go to.
West talked about scheduling, the need for student input on clubs/extracurricular activities and the enforcement of the dress code.
"I'm dedicated to making the school better because I have two younger brothers who will go here and I want to see them get the best opportunities offered to them," West said.
She said scheduling issues have plagued students for years and that it affects teachers, too.
"We need to do better on it," she said.
The dress code isn't applied equally to everyone, she said, particularly around head gear.
"I've seen students scared to wear their religious head coverings for fear of being harassed at being asked to take it off," she said.
West said the school needs to do a better job at letting students know about all the clubs and extracurricular activities that are available. Reyes-Martinez said students need to be asked what clubs/activities they want to see and "put more of a focus on it."
At that point in the presentation, Royce-Giron said she took the time to explain to the students what the process was for forming clubs so that they have a full understanding of the process and their role and voice in it.
Reyes-Martinez addressed issues related to curriculum and student engagement. She pointed out that the Living Environment class for ELL students is a two-year class instead of one as it is for the rest of the student population, meaning those students lose an opportunity to take another class. She suggested that a translator be added to the classroom.
Other issues Reyes-Martinez identified were the lack of classes Spanish or Latin American literature and the fact that many students find sitting in seats for long periods of time difficult so it affects their performance on assessments.
West said that much of what is taught is taught primarily so students pass such tests.
"That puts students at a disadvantage because in the real world you're not just doing something for a test. Having students share what they know, their opinions on a subject would give us a different way to study and learn."
Next steps
The conference was designed to give students a safe space and a voice, Jenny Schinella, BOCES director of educational resources, said. "Your students are so amazing," she said. "They had immediate action steps they wanted to go to their principal with."
And they did just that.
The hour-long staff meeting was just the start of the work at PHS.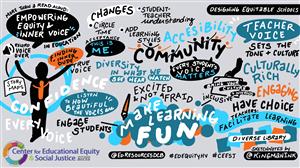 Royce-Giron offered to host a follow-up conference in the fall at Poughkeepsie High School for students who attended the first one to further develop their ideas. "I came here to do this work. Amya, Unyque, Briceida I vow to you and every one of the 1148 students and teachers that every decision I make as your principal I make because of you," Royce-Giron said.
As for BOCES, Schinella said she is working on formalizing the center, gathering district reviews of the conference and designing more opportunities for students and staff to explore equity.