Return to Headlines
First PHS E-Tech student graduates from DCC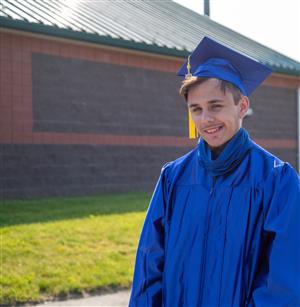 Six years ago, Michael Moulden made a decision to join the E-Tech program at Poughkeepsie High School. It was new and offered the promise of a college education and career readiness in exchange for hard work.
Moulden, then in ninth grade, had to commit to a course of study at PHS that would enroll him in college-level courses while in high school and then continue at Dutchess Community College.
On May 21, Moulden completed that journey, earning an associate degree in electrical engineering from DCC.
"Back then, my mom pushed me to do it because it was offering a free degree and college. I got interested as I was going through the classes," Moulden said.
Though quiet by nature, Moulden impressed teachers, business leaders and his mother with his desire to learn, grow and master the skills needed to succeed in the program and workforce.
"We had him create some Excel spreadsheets that would track where some of our cases were so we knew where and what we needed to do to update them. He also worked on a project to create a spreadsheet that helped us manage our damage claims," Balga said. "He was always on time, came in excited to do the job and, when he was finished, would ask if there was anything else he could do," said Andrea Balga, senior counsel at Central Hudson, where Moulden interned as part of the E-Tech program.
Kristina Giangreco, PCSD's director of special projects, was E-Tech principal during Moulden's senior year. She said the program, funded through a New York State Education Department Pathways to Technology grant, provides students with the ability to earn a degree and become an electrical technician. Even though students move to DCC in the last two years of the program, they remain on PCSD's roster so they can receive support from both the district and DCC.
"Out of his group (the first one), he was the only one who stayed through to completion," Giangreco said of Moulden. Other students went to four-year schools, deciding they didn't want to be an electrical engineer.
Moulden recalled the first program-related class he took in high school was a computer-aided design class in which he had to draw an object and then use a computer to design it. In another class he learned how to use electric meters and check voltages of circuits -"the basics," as he called it.
His favorite part of the program during high school was the summer program at DCC where he took a class not related to his degree - the class built a robot you could command.
"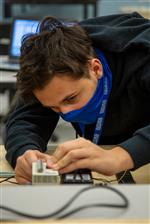 I'm not sure I would have gone to college if I didn't have this program," Moulden said.
He said meeting new people and the DCC professors was a great experience and he really enjoyed his work at Central Hudson.
Daniel Barbuto is one of those professors and chair of the electrical engineering technology program at DCC.
"Michael was a strong student the whole way," he said. "He's a quiet student who would always be able to do good work." Barbuto said that for the first three semesters, Moulden took four to five classes earning As and Bs in all of them.
"It's great that he stayed with it," Barbuto said, adding that there are a lot of area companies hiring in this field.
Moulden said he's going to take a little break and then look for a job. He had this advice for students who
are still in the program: "Don't procrastinate in your work."
As for Moulden's mom, Andrea Beres, she is very grateful for the program.
"I'm so proud of him. He has been through a lot and persevered. If it wasn't for this program I couldn't have paid for college," Beres said.
While grant funding Poughkeepsie's program ended this year, the program had great success.
"E-Tech runs over a 90 percent graduation rate because of the supports available. Everyone always looks out for each other," Giangreco said.
And, while the last students just finished their time at PHS and have moved to DCC, Giangreco said the lessons learned through the program can be implemented in grander way in the district moving forward.