Return to Headlines
Puppet show adds fun to Morse art lessons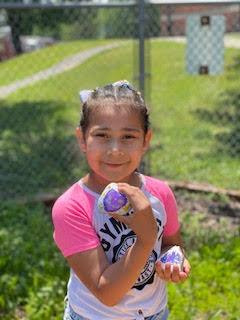 Melissa Cascio's art students shared their learning experiences with a guest from another planet this year as Scribble from Splat joined the class for most of the year.
In reality, Scribble is a puppet character created by Cascio and her husband - exclusively for Morse Elementary School students.
He came about during the pandemic after Cascio watched a former colleague do a few puppet shows for morning announcements and was inspired. "I wanted kids to be excited because when you're sitting at home there are a lot of distractions," she said.
Left, Jeylin Palma-Corea holds the Scribble Stone she created as part of that week's lesson.
She ordered a puppet, had it shipped overnight and three weeks into September Scribble came to life via a recorded puppet show shown to all of her students. "I'll be honest, it was only supposed to be one or two lessons … but the kids loved it.
The video is a family affair, with her husband being the voice and antics of Scribble, her daughter handling the recording and her son chipping in as a character as needed. Cascio said each episode takes 2-3 hours to create. There are about 30 of them. Aside from her lesson, the Word of the Week and the joke, it is unscripted.
"We'll discuss the lesson and Word of the Week over dinner for about two minutes, but that's it," she said.
All videos teach a lesson that is part of the curriculum. Each week, there is a review of the previous week's lesson, an art Word of the Week, a joke and a lesson.
Scribble does the lesson with the students and everyone has a chance to share what they are working on with the others. Since Scribble is from another planet, he often relies on the students to teach him. At the end of each lesson, Cascio created a rating scale from one to four Scribbles for students where they can indicate whether they need help (1) or feel great about their work and can teach Scribble (4).Every episode ends with the Cascio's motto, "Be great and create."
Recently, for Scribble's birthday, Cascio used the book, "Scribble Stones," and had each student design their own rock on paper and then paint it. She and her husband gathered and primed about 140 rocks for students to use. Once students painted the rocks, they placed them in the school garden. Going forward, Cascio plans to continue using Scribble even when in-person learning resumes. For the younger students, she plans to reuse this year's videos. For third through fifth graders, she may do monthly check-ins with Scribble. "We love doing this," she said, adding that the most rewarding aspect is "connecting with the kids."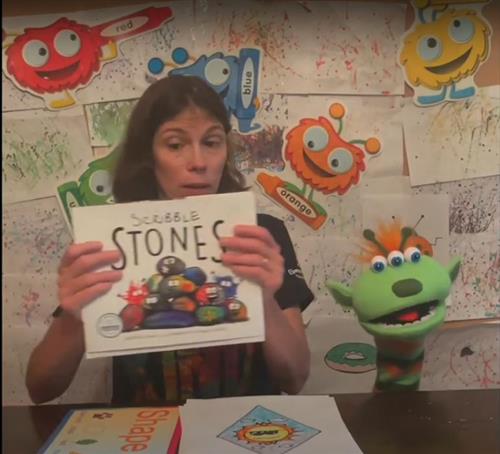 Above, art teacher Melissa Cascio holds a copy of "Scribble Stones" as Scribble reacts.
Interim Principal Samantha Mitchell said it's not just the students who love it, but the teachers, too.
"I think she did a phenomenal job," Mitchell said, "She created a way to activate children's excitement and a way to motivate them to be involved that is both entertaining and educational - they talk about Scribble in the halls."
Cascio said she "loves to spread positivity among the staff. I'm more than an art teacher, I love making people happy and the kids are learning."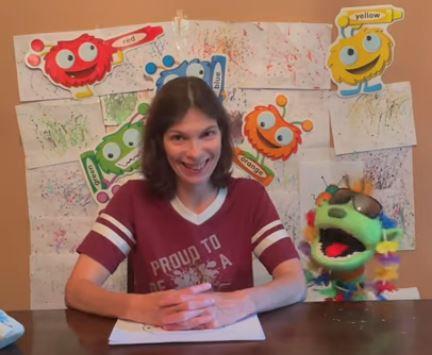 Cascio and Scribble in the last lesson of the year – Scribble is excited about going on vacation and dressed the part.