Return to Headlines
Workshop puts focus on attendance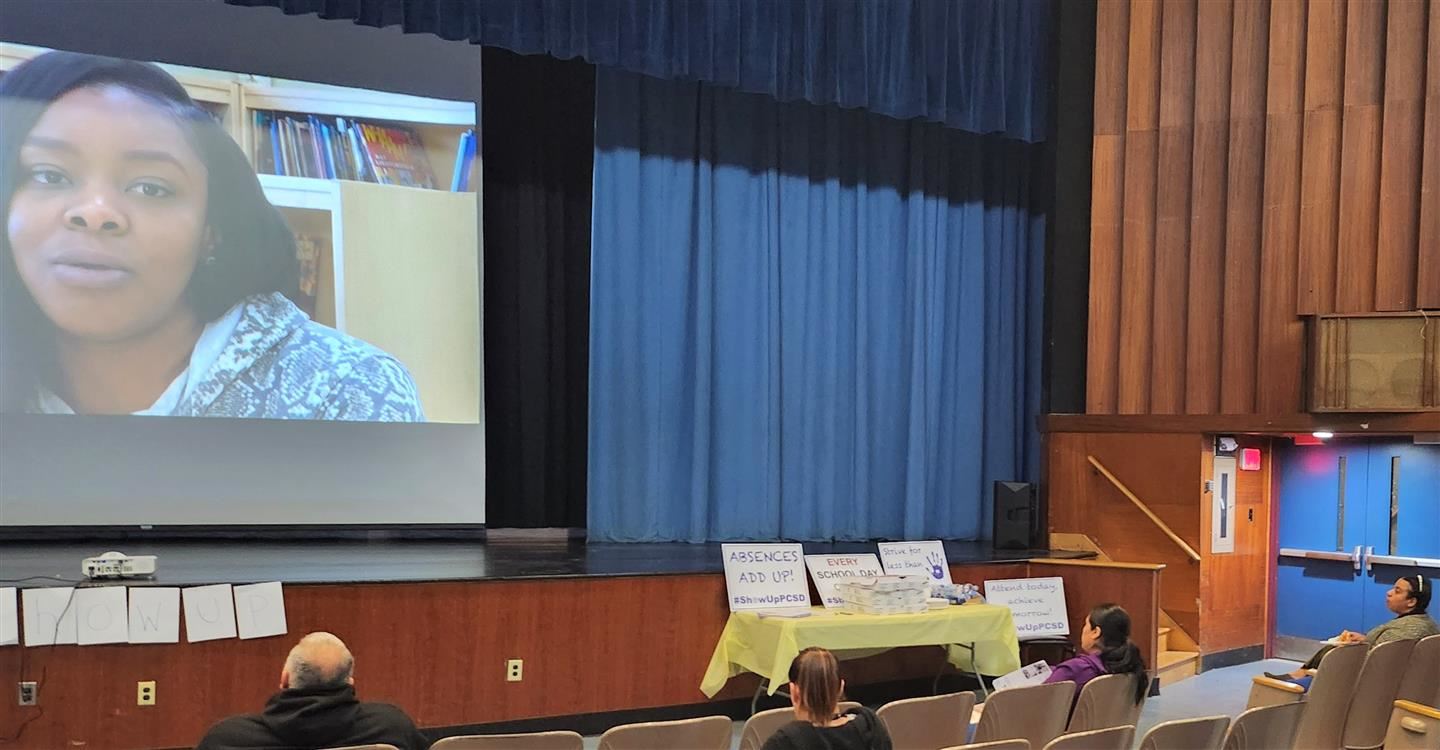 Parents learned first-hand how important it was to their child's academics during a workshop Wednesday afternoon and left with tips on how to help their child along with a bonus of coupons for free milk and eggs courtesy of Stewart's.
PHS caseworker Kiera O'Loughlin kicked it off by sharing an attendance video with PCSD students, parents and staff speaking about attendance. Then, she asked attendees what makes it difficult to get their children to school and encouraged them to share what helps them do so.
One of the biggest challenges identified was transportation. O'Loughlin reminded parents that PMS and PHS students can ride the city bus at no cost with a PCSD student ID. She encouraged parents whose students misplaced their IDs to obtain a new one from security. She also said caseworkers can help children understand the bus system.
Putting a large calendar on the screen, she showed that missing just two days per month puts students at risk of being chronically absent. She showed how that equates to missing nearly a month of school over the course of a school year.
She also did an exercise to demonstrate how even arriving late to a class can impact a student's ability to learn. She asked a staff member to exit the room and then had the audience stand up, come to the front and pretend to wash an elephant.
The staff member was called in and asked to tell O'Loughlin what the group was doing.
After a few guesses, the person was able to get that the group was washing something, but didn't get what they were washing correct until being told.
"This demonstrated how missing just a day — even being late — affects a child's ability to learn because they don't know what is happening when they rejoin the class and this causes frustration so they become unmotivated," O'Loughlin said.
She shared that good attendance means missing nine or fewer days of school. School begins to get harder at 10-17.
The impact can be felt even with missing kindergarten. For example, she showed a chart indicating that the number of kindergarten absences had an impact on fifth grade reading scores, with those missing nine days or less faring far better in reading.
O'Loughin encouraged parents to reach out to the caseworker at their child's school for help with attendance challenges.
She also provided a few tips:
• Set an attendance goal.
• Use a calendar to keep track of absences.
• Make appointments/doctor's visits on school holidays or during after school hours.
• Set bedtime and morning routines.
• Talk your child about why attendance is important.
Attendance PSA contest winners
The district held a contest open to all students to create a poster, song or video that encouraged attendance and spoke to why it was important and included a fact about attendance. The winners of the contest by building level are:
• Elementary: Krieger Elementary School's video by Ms. Rooney and Ms. Henne's fifth grade class.
• PMS: David Benz, who wrote and rapped an attendance PSA.
• PHS: Omari James, who did a video about attendance.
The individual PMS and PHS winners each received a $50 gift card. A special class award will be provided to the class video.
We want to thank all the students who entered and congratulate all the winners.