Return to Headlines
District resources help prevent bullying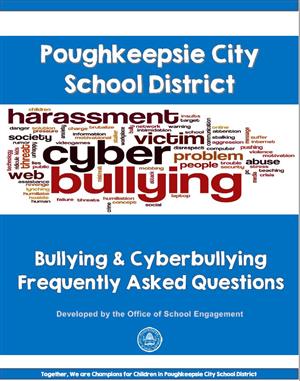 Research indicates that nationally 90 percent of students in grades 4-8 have been harassed or bullied with 20 percent of students in grades 9-12 experiencing it. Cyberbullying is experienced by 9 percent of students in grades 6-12. Becton Loveless, Education Corner writer, states that "Bullying is an epidemic. It is rampant, widespread and pervasive. The effects can be catastrophic. It occurs in our communities, in our schools – and sadly – even in our homes".
As part of the Poughkeepsie City School District's effort to create and maintain safe environments conducive to learning and instruction, the Office of School Engagement recently published a frequently asked questions document intended to educate and mobilize school and community stakeholders to become upstanders in combating the epidemic.
"Bullying & Cyberbullying Frequently Asked Questions" is being made available to students throughout PCSD and can be downloaded in a preferred language (look for the 'A' next to the document) in this article online.
The document provides responses to frequently asked questions regarding bullying and cyberbullying and provides resources that can easily be accessed.
PCSD's Code of Conduct provides specific definitions of bullying and cyberbullying. In general, both are defined by actions intended to ridicule, humiliate or intimidate another student.
Some signs that a child may be being bullied include:
Not wanting to go to school or be in social situations
Unexplained illnesses, cuts or bruises
Withdrawn
Change in behavior
Some signs of cyberbullying include:
Unexplained decrease in use of technology
Appears nervous or jumpy when receiving electronic messages
Appears angry, upset, depressed or frustrated after using the computer or cell phone
"We at PCSD promote an anti-bullying environment for all students and we encourage all students to use their words wisely," Executive Director of School Engagement Da'Ron Wilson said. "We want to ensure that all students know that they have a right to speak up and stand up for themselves and others."
Wilson pointed to a quote by Harvey Fierstein that says, "Never be bullied into silence. Never allow yourself to be made a victim. Accept no one's definition of your life, but define yourself."
Students who are bullying others may exhibit some of these behaviors:
Referring to others negatively
Lacking empathy
Hostile/defiant attitude
Denying involvement or blaming others when behavior is addressed
Adults can help prevent bullying whether they are a parent or a member of the community by modeling positive, appropriate behaviors.
Some examples include:
Talk and listen to your child and/or children in the community
Treat others with dignity and respect
Get involved in school, community and at home
Know the school's policies about bullying prevention and intervention
Teach responsible use of technology and supervise its use
Parents and guardians may report bullying incidents by downloading the Dignity For All Students (DASA) Incident Reporting form from our website, filling it out and returning it to the building principal.