Return to Headlines
Hyde Park views Community Schools model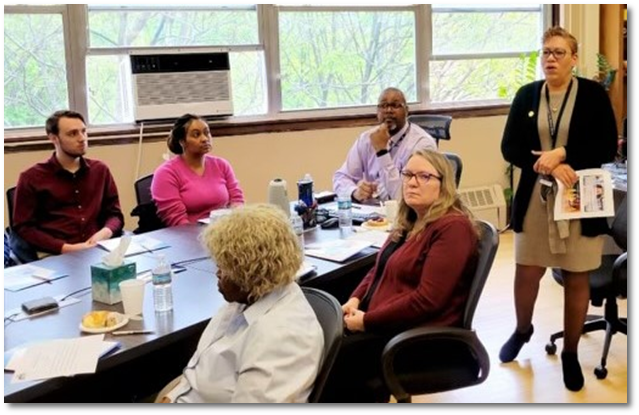 The Office of Community Schools, under the leadership of Natasha Brown, executive director of community schools, hosted a delegation from Hyde Park Central School District Leadership Team recently. The team is exploring effective practices and heard about the Poughkeepsie City School District's Community Schools model and wanted to learn more about it.
PCSD's Community Schools model is designed to support the success of the whole child and his/her family by providing opportunity and access to resources, services, programs, and community connections that support success in and out of school and beyond the pre-K – 12 continuum. In 2020, the district designated all schools as Community Schools as part of its school turnaround model.
The model focuses on five pillars: Early Learning – Pre-natal to Pre-school, Integrated Student and Family Supports, High-Level Community and Family Engagement, Expanded and Enriched Learning Opportunities, and Collaborative Leadership Practice intended to:
Implement strong educational programs which reduce learning gaps, enrich and expand the curriculum, and strengthen parent and community engagement throughout all schools.
Implement high-quality extended day and year-long programs of excellence (e.g., academic, cultural, artistic, athletic, and needs-based).
Coordinate local resources to offer medical, dental, health & wellness for families.
Extend PCSD's involvement in the Prenatal to College & Career Success youth development space.
Dr. Eric Jay Rosser, superintendent of schools, joined Brown, Julie Maserjian, parent empowerment center manager; Gilbert Colon, community school liaison and Jasmine Clay, parent partner in conversation about the district's framework, parent empowerment center, parent and community partnerships, and what the community school model looks like operationally in each of the schools. Clay shared how the model drew her in as a parent, whose first exposure to the model was after she needed assistance with navigating the district. After receiving support from the Community Schools staff, she learned that the district's approach to supporting the whole child and their family was aligned with her nonprofit organization, which is now able to support a greater number of students and parents by partnering with the district.
Rosser shared why implementing a Community Schools model was important to the turnaround efforts in the district, attributing the formation of it in Poughkeepsie with his experience in Buffalo Public Schools and the results the model yielded there.
"I'm just taking a moment to thank you and your outstanding Community Schools team for an incredible presentation! I was inspired by all you have accomplished to support children and families and especially for the way you are involving everyone in the process!" Aviva Kafka, Hyde Park's superintendent, wrote afterward.
Therese McKenna, Hyde Park's school information system data manager, said, "Your team's passion for the program is phenomenal."
But it wasn't just administrators who left inspired. Teacher Melissa Lawson said, "Your school community is so fortunate to have such a dedicated team. I walked away with several ideas about how to get started here in Hyde Park. I look forward to collaborating with you in the future!"
Leaders from both school districts are working to identify a date for the HPSCD Leadership Team to return to visit the Saturday Morning Lights extended learning opportunity provided to parents and students. To review the presentation click here.