Return to Headlines
Students find new options at Multicultural College Fair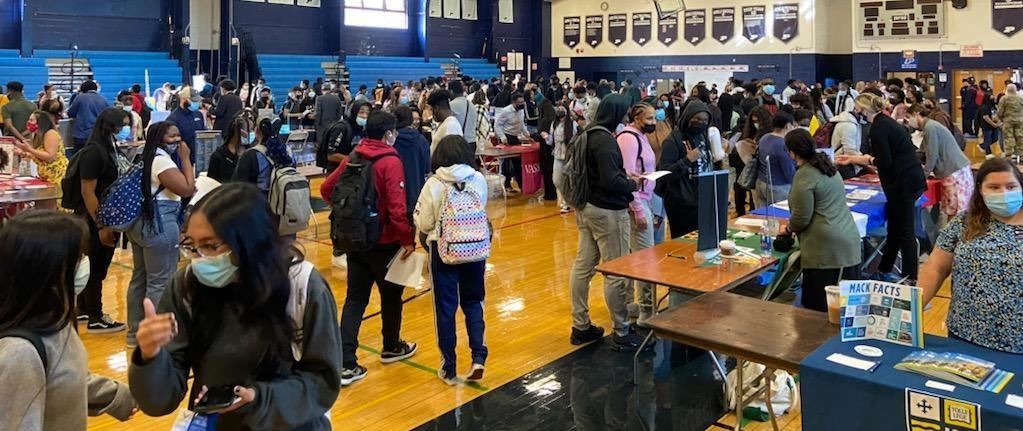 Poughkeepsie High School students spent part of Tuesday gathering information about colleges they may want to attend during the 26th annual Multicultural College Fair held in the gym.
About 50 colleges, universities and the military were scheduled to attend but more schools showed up than planned, said Franky Perez, the counselor who has organized the event for years.
"It was a great day. The teachers were very supportive and we had great attendance."
For many, the fair was a way for them to explore schools that were at a distance and get more detailed information by asking questions of the representatives. Some found new options.
Junior Amira Ibrahim went to the fair intending to expand the list of schools to consider for her neuroscience major.
She found a SUNY school and Vassar College, neither of which she had considered before.
"I live eight minutes from Vassar, but I never considered it because I didn't want to live so near to my home.
"But, after talking with the representative, I realized it is such a good school and the distance doesn't matter because of what I could get from it," Ibrahim said.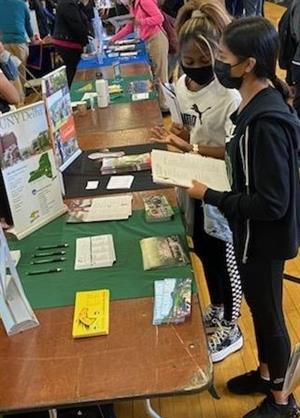 Fellow junior Gabrihanna Jones had the University of Albany on her list already as she plans to major in social work. Meeting with the college's representative ensured it remained high on the list. "We had a conversation about financial aid and that solidified my thoughts that I really want to attend. We also spoke about the social work program and they told me it was the highest in the state."
Perez said representatives from various colleges spoke with him during lunch and told him they were impressed "with the preparedness of our students."
That is one of the reasons Perez does the event year after year. This year, in addition to help from 17 students from the Multicultural Club, he was joined by College Readiness and Workforce Education Counselor Kelly Semexant.
Through the fair, Ayannah Rodriguez, a junior, learned about SUNY Delhi's veterinary program.
"They have a lot of animals to work with and a farm nearby with horses, sheep and other large animals," Rodriguez said. "I took a look at their classes and surroundings and it interested me," she said.
While the fair is geared for older students, it provides a valuable opportunity to introduce younger students to the possibilities of college.
Some of honor students from Poughkeepsie Middle School attended the fair as well.
And, for freshmen and sophomores, Ibrahim said attending can provide valuable guidance before they get too far along in their schooling. "They spoke a lot about GPA (grade point average) and as a sophomore or late freshman, you'd have time to work to improve it to where you need to be."
Thank you, Mr. Perez, Mrs. Semexant and the Multicultural Club for bringing this event to another successful conclusion.