Return to Headlines
Basketball, cheerleading given OK to start seasons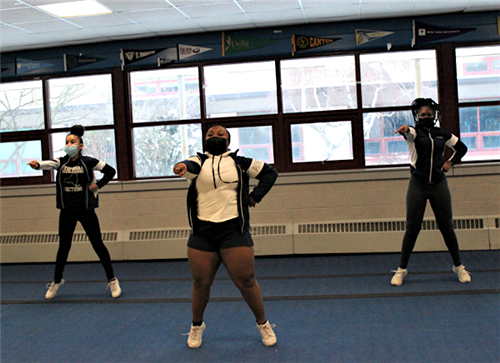 Natalia Lopes, Autumn Bland and Patrena Campbell demonstrate a cheer.
All the open gym sessions our basketball players and cheerleaders have been attending for the past few weeks are over as Section 1 teams officially begin their seasons Friday, Feb. 5.
Players and coaches were ready to start Wednesday, but safety guidelines and other matters were still being reviewed so the date was delayed. Athletic Director Greg Russo confirmed today's start this morning.
"I'm speechless. I'm excited, I'm thrilled. I'm very eager to begin," cheerleading coach Lynnece Edmond said. "There's been a sense of being together like family is like no other feeling," she said of the team finally being able to meet together.
On Wednesday, the team was running through drills and rehearsing some cheers with the students who were available to participate in the hallway outside the Poughkeepsie High School auditorium.
Later that evening, the boys basketball team held open gym in the gymnasium. Boys basketball coach Cody Moffett said that he has been assessing students' skill levels, since so much time has passed since last season.
"Many of them have taken full-time jobs during the pandemic, so we are trying to work around their schedules – we've been doing three days a week instead of six. Now we have an opportunity to go six days, we'll try to make things work as a team," Moffett said.
Students were even more excited about the return to action.
"It's unbelievable; I never thought I'd be back after the COVID-19 pandemic. I'm very happy to get to come back and go into cheer competitions again because that is my favorite part of cheer," said Natalia Lopez, an eighth grader who is in her second year of cheer.
The fact that there won't be any spectators this year may make it easier.Javel Cherry, a senior, who played on the basketball team the three prior years, said he is glad sports came back for his senior year. "I'm ready to go after it with these guys, especially after what happened with last year's loss," he said. Last season, the boys made it to the championships, but lost. Cherry and teammate Dejon Hamilton, want to see the Pioneers win it all this year.
"As a player it does change things because the pressure is gone," Hamilton said. "I feel like I may play better with no fans because there is less pressure and I'll be more confident and don't have to worry about what people are thinking in the stands." Things will also be different for the cheerleaders, who will now be separated from the team and coaches and won't have a crowd to play to.
"It will be harder because cheer is all about crowd interaction, it's what gets people amped up," said Autumn Bland, a ninth grader who hopes to return to the team. "There will be more interaction with the boys to encourage them. The cheers will get them hyped up and inspired to do what they need to do."
During games, cheerleaders will be spaced six feet apart and have to wear masks. They'll have a designated spot on the bleachers, Russo said. Basketball players will have to wear a mask on the bench and will be spaced six feet apart. The mask protocols for players on the court are being discussed on the sectional level, he said. Other steps the district is taking to protect athletes and staff include:
Requiring visiting teams to send a list of all players and support personnel attending. Only those on the list will be allowed into PCSD facilities)
Requiring all visitors to complete a COVID-19 screening with their home district prior to arrival.
Screening all game management personnel and officials per district guidelines.
Only allowing access to the facility through the school's main entrance.
Requiring masks to be worn when entering and leaving the facility or visiting a restroom.
Not permitting spectators at events
We look forward to a safe and successful season and wish all our athletes the best of luck!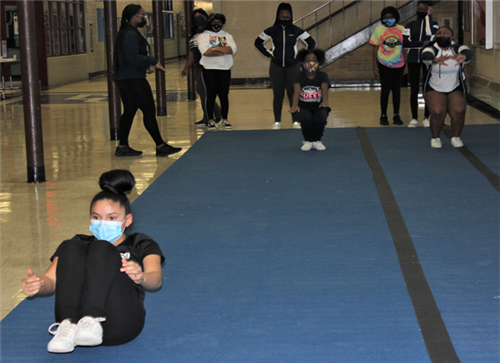 Natalia Lopes, Janiyah Bishop and Autumn Bland run through a drill as Gabriel Anderson, Serenity Carpenter and Christiana Mullings await their turn.