Return to Headlines
PHS Class of 2020 celebrates
Nothing could stop Pioneer pride Wednesday night, July 8, 2020.
It was the night the Class of 2020 was officially recognized with the Poughkeepsie High School 2020 Commencement Celebration.
No, it wasn't your traditional graduation by any means.
Covid-19 saw to that.
Class members did all the hard work leading up to their day – not at the school but in their living rooms, dens, kitchen tables and bedrooms. The celebration was not at the high school auditorium, but in cars at Overlook Drive-In.
But that didn't matter as the sense of accomplishment and pride was grand among the 229 graduates, 39 of which were Honor Graduates, with an average of 90 percent or better.
Principal Kelleyann Royce-Giron and her team had the drive-in decorated with blue and white balloons, graduation cap balloons and a big 2020 balloon. Pioneer Pete was there, too. As was DJ Wisdom, playing music live and through the drive-in's FM station.
"It's exciting to see all they did for us with all that was going on," graduate Alexis Deyo said.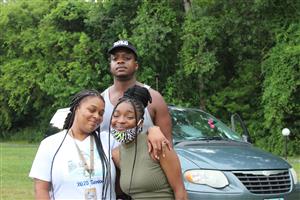 Zykia Davis said she was overwhelmed when she learned a week before school ended that she wouldn't graduate.
"I did the computer work and did it in time to graduate," Davis said. "Now it is a big lift off my shoulders," she said at the celebration, adding that now that she knows she can work hard and focus, she plans to attend Dutchess Community College. "If I have my mind set on it, I can do it."
While it was still light, before the video began, Superintendent Dr. Eric Jay Rosser and Royce-Giron called all the graduates to the front of the drive-in with their caps and officially conferred them as graduates, meeting with applause throughout.
The video ceremony started with AFJROTC Cadet Col. Alija Clark presenting the colors while Taznir Smalling sang the national anthem.
In speech after recorded speech, words of encouragement, praise and power resonated.
"I encourage all of you to take leading roles in the community to ensure the world only gets better from here," Class President Tania Hernandez-Martinez said.
Board of Education President Dr. Felicia Watson offered her "Five Pioneer Pride Points of Wisdom" to the class:
Always love yourself, believe in yourself and respect yourself.
Dream big … then wake up and make it happen.
Don't be afraid of failure. Failure is nothing but success turned inside out.
Always be willing to help someone else.
Always stand in your truth.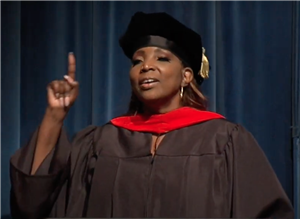 "You will impact the lives of many exponentially and we super appreciate you. We love you and we thank you for allowing us to be a part of your life for these many years," she closed.
New York Sen. Sue Serino told the class that it faced challenges "none of us ever dreamed of."
"You've shown incredible ability to adapt in the face of adversity. That ability, grit, determination and Pioneer spirit will take you so, so far."
Superintendent Dr. Eric Jay Rosser told the class this was but one of many milestones that will define their lives' path.
"As you transition from Poughkeepsie High School into either a career or college of your choice, be sure to always take calculated steps so that you arrive successfully to your destination which is your dreams."
It was salutatorian Hannah Raizman who brought humor to the big screen.
"When I told everyone I was interested in studying the plague, this is not what I meant. I just figured I should clear that up now," the Vassar College-bound Raizman said.
She thanked her teachers, coaches, friends and parents for getting her to this day.
From Mr. Davis, she learned "Grades aren't everything and that a good grade is not the most accurate measurement of whether or not you learned something."
From her experience as coxswain on the girls' crew team she learned lessons in leadership, hard work and believing in herself.
"There's nothing like having to dock a boat when you've been surprised by rain and white caps," she said.
Raizman said the most important thing she had to say to her classmates was, "It's not too late to change your trajectory. If you feel that you aren't going down the best path, you can still change."
Valedictorian Jaden Ababio took a slightly different approach, thanking the Board of Education and Rosser for "continuing to support and do everything they can to better the district."
The Babson College-bound senior also thanked Mr. Lawrence and JROTC Chief Mary Wagner for being her greatest mentors during her time at PHS.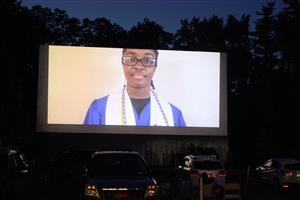 She acknowledged the challenges and disappointment the class faced and said, "We're allowed to feel sad. We're allowed to take a step back - reflect - and just wish we could have had the full senior year experience those who came before us did."
But, she said the class can't stay there forever.
"We need to stand up, dust away the cobwebs of grief and stand proudly to acknowledge that we are the class of 2020. We are the ones who persevered through a time of crisis!"
Ababio said it is her belief that, "how we as a class decide to move forward in our lives is all that will matter."
She encouraged the class to look not at the damage the virus caused and do nothing about it but to "remember how we felt when we lost so much and decide to make changes to the world around us so that we can be better prepared in the future."
Keynote speaker Maurice Jeremiah Williams, a PHS Class of 1999 graduate and founder of Striving Altogether Valiantly Everyday – an education and leadership program, also spoke of moving forward.
"Turn your survival skills into striving skills because you all survived through the pandemic of Covid-19, social unrest due to police brutality and racism. You must not ride the wave of just survival. Pioneers stand up! You have to strive."
He told the class they were all "capable of withstanding the pressures of this world."
And Principal Kelleyann Royce-Giron spoke of how the class overcame individual and collective challenges to arrive at this day.
"Class of 2020. My first graduation class as principal of my alma mater will be cited in the history books as one of the most unique, creative, technologically-sound and yes, resilient classes to ever leave the Poughkeepsie High School campus."
She encouraged students to continue to strengthen their work ethic and character as, "this will push your success in life. This journey is about direction, not perfection."
With that, "Pomp and Circumstance" played as each of the graduating seniors was shown walking the stage, bumping elbows with a number of district leaders and receiving their diploma and a white rose, which Royce-Giron asked them to pass on to someone who has guided, supported or loved them.
The individual segments were recorded over several days and edited by Lance Wheeler Video so it flowed seamlessly.
As the names were read, horns honked, classmates and families shouted.
In the end, it was the Class of 2020, not Covid-19, that ruled the day.
"This feels amazing," graduate Gustavo LaVariega said. "I wasn't the best student, but I knew I had potential." LaVariega said many people told him he wouldn't graduate.
"So to prove them wrong is great," he said, adding that he really appreciates the efforts the district made to make the day special.
"It is nice to know we're not having a boring end to our high school careers."
Honor Graduate Summer Juliano agreed.
"It feels like we're getting a lot more than other schools," she said, adding that she felt the class had a lot more opportunities to get together and say goodbye.
"When we walked across the stage there were different teachers there than are here today."
Congratulations Poughkeepsie High School Class of 2020!