Return to Headlines
Update shows construction progress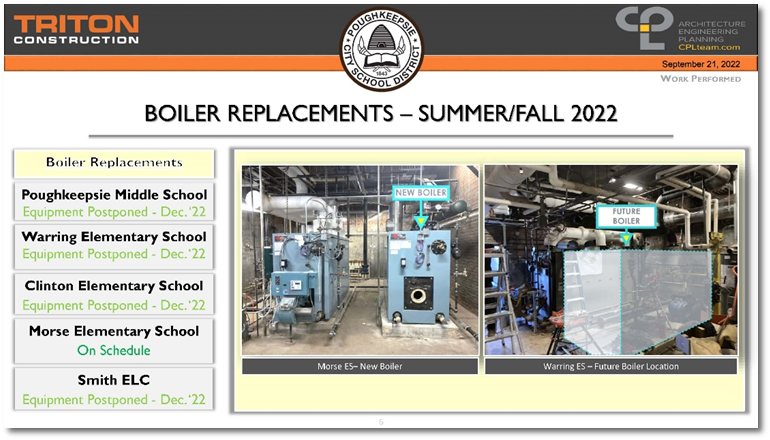 At Wednesday's Board of Education Workshop meeting, the quarterly Construction & Design Progress Update was provided to the Board of Education and Community. Dr. Eric Jay Rosser, superintendent of schools and Kevin Sawyer, vice president and project executive for Triton Construction led the presentation outlining the status of the district's $98 million Capital Improvement Project.
Sawyer shared the status of the project's summer 2022 work noting that roof renovations have been completed at Poughkeepsie Middle School, Warring Elementary and Krieger Elementary. He shared that a significant portion of Poughkeepsie High School's (PHS) roof renovations was completed with the remainder of the district's largest school to be completed in 2023. Once the remaining portion of PHS' roof is completed, all schools will have roofing systems that maintain the integrity of each facility against weather elements that have disrupted the normal flow of the school environment for years.
The presentation also highlighted the status of the restroom renovation work, boiler replacements, and electronic school marquees:
Restroom Renovations: Planned Summer '22 work is completed at the PHS and 90 percent complete at Smith Early Learning Center. The renovation work resulted in 16 student/group restrooms and 14 single user restrooms being completed. Sawyer noted that the remaining restrooms at PHS, Smith ELC and all district schools are slated to be completed in summer 2023.
Boiler Replacements: Significant work transpired this summer to prep Poughkeepsie Middle School (PMS), Warring Elementary, Clinton Elementary, Smith ELC, Krieger Elementary, and Morse Elementary to receive new boiler systems. Each system is slated to be received and installed before January.
Electronic School Marquees: The electrical work for the district's remaining three schools to receive electronic marquees has been completed and each school marquee is slated to be installed in November.
The presentation concluded with Rosser sharing that the remaining $46 million dollars of the Capital Improvement work will be based on the following project priorities.
Security (entrances, external doors, internal doors)
Remaining restroom renovations
Select ADA components
Educational Programming inclusive of Innovation Labs at the elementary schools and reimagined learning spaces at both PHS and PMS
Building Components/systems necessary for dependability
Rosser shared that district administration had begun meeting to define the specifics of the next major phase of the work. Sawyer noted that beyond the remaining $46 million left in the $98 million dollar project the district has secured other funding to support the priorities.